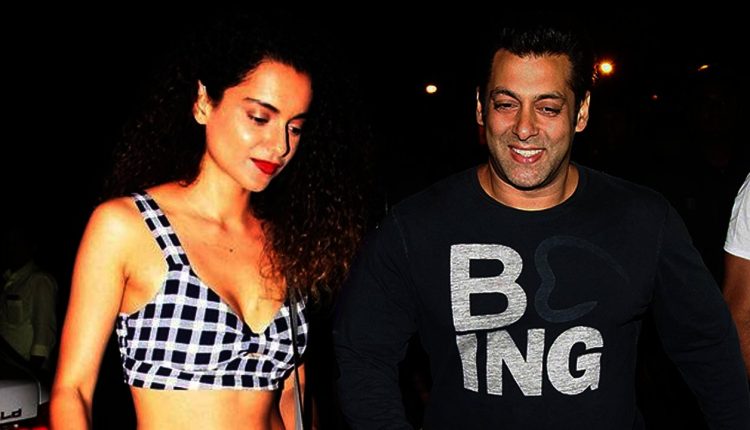 Kangana Ranaut Calls Salman Khan Her Good Friend In Interview With Siddharth Kannan
Kangana Ranaut, a Bollywood actress, is noted for her flawless elegance and scathing criticism of Bollywood celebrities. She was recently spotted at actor Salman Khan's sister Arpita Khan's and Aayush Sharma's Eid party. Her supporters were taken aback when she showed up at the gathering. She has now revealed the reason for her attendance at Arpita Khan's celebration.
Kangana Ranaut recently spoke with RJ Siddharth Kannan for an interview. In this interview, she explains why she is attending the Eid party. 'She and Salman Khan are excellent friends,' Kangana says. She couldn't say no when he invited her to the party, and she decided to go.
MUST READ: Kabhi Eid Kabhi Diwali Features this actor with Salman Khan
Kangana Ranaut Says,'Salman Khan Is A Good Friend'
'It's not that I don't go to Bollywood parties; I go wherever I want,' the Bollywood queen stated in the interview. Because Salman Khan is a close friend of mine, How could i decline his invitation to the celebration. Very straightforward. Salman Khan and Kangana Ranaut's friendship was on display for fans as Salman congratulated Kangana on her next film 'Dhaakad.'
'Wishing team #Dhaakad the absolute best!' Salman wrote beside the trailer. @smaklai @rampal72 @kanganaranaut." 'Thank you my Dabang Hero Heart of Gold…' Kangana tweeted, resharing Salman Khan's post. I'll never say again that I'm alone in this business. On behalf of the whole Dhakad team, thank you.
Kangana Ranaut has frequently chastised her peers for failing to promote her films. In the interview, Kangana Ranaut also expressed this. Kangana says she used to encourage actors and producers to send out promotional messages for their projects. She used to do the same thing for her movies. However, she noticed that other performers in her films did not do so. As a result, she eventually quit doing everything. She has now risen above it all and works alone.
She said, when asked about attending the Eid party, "They were merely discussing the trailer. Why is it such a hidden thing when you are so delighted with a trailer at such a high level?'
She said yes when asked if she had asked him to promote the picture on a digital platform "I've moved on from it. During Manikarnika, I personally told everybody, including Aamir Khan. 'You always call me for your exams like PK or Dangal,' I said when I called. You also mention my films. I've progressed past that phase now.
MUST READ: Kangana Ranaut Twitter Team Handle Gets Blocked for Hate…
Kangana Ranaut will star in a spy thriller
Kangana Ranaut will star in the upcoming film 'Dhaakad.' It's a spy thriller in which she plays Agent Agni. In this film, she is also collaborating with Arjun Rampal.
Click here for the latest news from Bollywood, Hollywood, South Film Industry, Bhojpuri and TV world… Click here to join the Facebook Page, Twitter Page, YouTube page and Instagram of Bollywood Mascot !