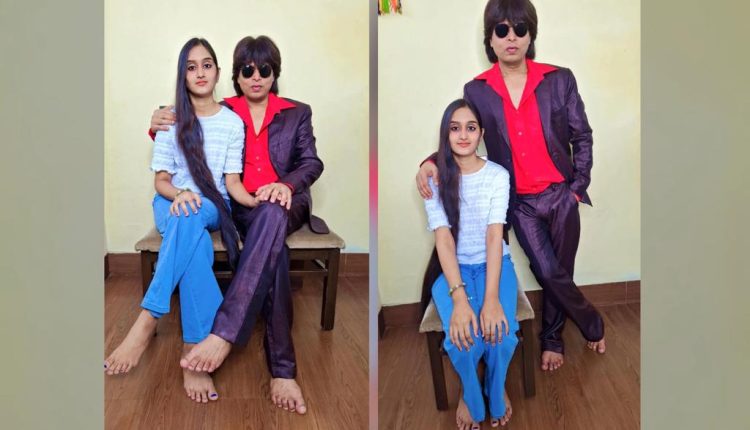 Intimate Birthday Bash of Mannat Rahikwar, the daughter of Raju Rahikwar; A Heartwarming Home Celebration
In a heartwarming celebration that reflected the close-knit bonds of family, Raju Rahikwar, the Indian actor celebrated for his striking resemblance to Bollywood superstar Shah Rukh Khan, marked a special moment on July 31, 2023—the birthday of his beloved daughter, Mannat Rahikwar. Unlike the glitzy events often associated with celebrities, this birthday was celebrated in the cozy confines of their home, exuding a sense of intimacy and genuine joy.
The Rahikwar family chose to forgo the traditional extravagant party and opted for a quieter, more personal celebration at home. The occasion was graced by the presence of close family members and a few dear friends, creating an atmosphere of warmth and affection. The decision to keep the celebration private resonates with the family's commitment to valuing meaningful connections and cherishing moments shared amongst loved ones.
Raju Rahikwar took to his social media handles to share glimpses of this heartfelt celebration. The posts, adorned with the pure smiles and genuine laughter of the family, allowed fans and well-wishers to be a part of the special day from a distance. The images captured the essence of the Rahikwar family's happiness, showcasing the radiant Mannat alongside her proud parents.
In one of the snapshots, Mannat beamed with joy as she blew out the candles on her birthday cake—a symbol of dreams and wishes coming true. The simple elegance of the decorations and the homemade touches added a personal and endearing touch to the celebration. The Rahikwar household resonated with joy, laughter, and the love that only a close-knit family can provide.
This celebration also speaks to the idea that fame and glamour, while present in Raju Rahikwar's life, take a back seat when it comes to treasuring precious family moments. The decision to celebrate within the walls of their home demonstrates the family's focus on preserving the sanctity of intimate connections and creating lasting memories that extend beyond the spotlight.
As the images of Mannat Rahikwar's birthday circulated on social media, fans and followers were treated to a glimpse of the Rahikwar family's genuine happiness. The comments and well wishes poured in, creating a virtual tapestry of support and affection.
In an age where larger-than-life celebrations often take center stage, Raju Rahikwar and his family's choice to celebrate Mannat's birthday at home is a reminder that the true essence of any celebration lies in the love and togetherness shared. The day was not just a reflection of Mannat's journey, but also a beautiful portrayal of the Rahikwar family's values and priorities—a precious gift in itself.