Gadar 2 Movie Box Office Collection Day 1 2 3 4 & Day Wise Earning, Hit or Flop ?
"Gadar 2" has made its much-anticipated debut in theaters, setting the stage for an extraordinary collection and garnering an array of positive reviews from enthusiastic viewers. Sunny Deol's cinematic offering has stormed the box office in 2023, seizing one of the most remarkable openings of the year. The film's reviews have been overwhelmingly positive, surpassing expectations and shattering numerous records. The unexpected earning reports speak volumes, as the film has received an outstanding response from 90s enthusiasts who hold a special fondness for this endearing production.
This movie has emerged as a dominant force, securing a position as one of the year's premier openers, effectively outshining several established records, even surpassing the grandeur of Shahrukh Khan's filmography. The underlying catalyst behind the movie's triumphant success lies in the powerful emotional connections it evokes through its predecessor, as well as the much-awaited return of Sunny Deol to the big screen after a hiatus of 22 years.
"Gadar 2" stands as a testament to the enduring nostalgia and affection held by its audience for the original film, coupling this sentiment with Sunny Deol's comeback, thereby amplifying its resonance. The film's enthralling storyline, coupled with Sunny Deol's impactful performance, has reignited the passion of fans and newcomers alike, culminating in a sensational cinematic experience. As its impressive journey continues, "Gadar 2" continues to etch its mark on the annals of cinematic excellence, propelled by its rich history and the heartwarming return of an iconic actor.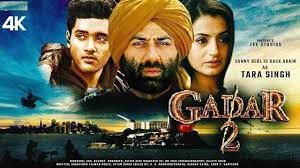 Gadar 2 Box Office Collection
| Day | Box Office Collection (INR) |
| --- | --- |
| Day 1 (Friday) | 40.1 Crores |
| Day 2 (Saturday) | 43 Crores |
| Day 3 (Sunday) | 52 Crores |
| Day 4 (Monday) | 33 Crores |
| Day 5 (Tuesday) | 35 Crores (early estimates) |
| Day 6 (Wednesday) | Coming Soon |
| Total Collection Till Now | 168.18 Crores |
Gadar 2, the latest release, has made an impressive mark at the box office, amassing around 40.00 Crores on its opening Friday. The film's reception has been buoyant, with audiences expressing genuine admiration for its captivating plot and stellar performances. The synergy of a compelling storyline and commendable acting has magnetized a substantial audience, driving them to theaters.
Renowned critics are optimistic about a significant upswing in numbers over the upcoming weekend, given the remarkable earnings reports for Gadar 2. Weekends inherently hold a special allure for moviegoers, affording them ample leisure to partake in cinematic experiences. The current positive response augurs well for the prospective triumph of Sunny Deol's Gadar 2.
Gadar 2 Box Office Collection Worldwide
"Gadar 2" has achieved a noteworthy worldwide box office collection of 167.88 Crores INR thus far. The film's release has been limited exclusively to India, with the Hindi language version being the sole presentation. This exclusivity means that the global earnings align with the Net India collection of 40 Crores on its opening day.
The substantial collection underscores the film's fervent reception and anticipation among Indian audiences. Despite its regional and linguistic focus, the movie's success can be attributed to its compelling storyline, skilled performances, and the enduring appeal of the original "Gadar" franchise. This achievement stands as a testament to the franchise's enduring popularity and the strong fan base it has cultivated over time. As "Gadar 2" continues to captivate audiences, its significant box office performance reinforces its significance within India's cinematic landscape.
Gadar 2 Movie Review
"Gadar 2" emerges as a revitalizing force in Bollywood, injecting renewed excitement after a comparatively subdued 2022. The movie's resonance is heightened by the recent success of "Pathaan," and its own box office prowess commences with an impressive 40 crore opening in India. The fervor surrounding the film stems from early positive reviews, sparking heightened anticipation among audiences.
A nod to the 90s era, the presence of Sunny Deol in the role of Tara Singh has ignited enthusiasm, especially among those who relish nostalgic action-packed narratives. The film intertwines elements of action, emotions, patriotism, and grandeur, creating a captivating canvas for audiences. Notably, critic Taran Adarsh's optimistic outlook further fuels expectations, predicting a promising trajectory for the film's performance.
Set against the backdrop of Lahore, the narrative is enriched by Sunny Deol's portrayal of Tara Singh, a character laden with intense emotions. For aficionados of the 90s generation, "Gadar 2" is poised to be an immersive cinematic experience, beckoning them to relish the grandeur and emotion on the expansive big screen. This film offers a tantalizing escapade, epitomizing the cinematic allure that captivated a bygone era, now reignited for contemporary audiences.
Gadar 2 Hit Or Flop Verdict
While the official verdict on whether "Gadar 2" is a hit or flop remains pending, its current performance in theaters indicates promising prospects for success. The movie's impressive start, amassing 40 Crores on its debut day, serves as a robust foundation. Moreover, its wide release across approximately 4000 to 3700 screens significantly enhances its reach.
According to reports from the Times of India, the production costs for the film are estimated to be between 75-100 Crores INR. Remarkably, the film is projected to surpass this budget within its opening weekend, potentially leading to substantial profits thereafter. A trade analyst has thus indicated that given the strong box office performance, "Gadar 2" is poised to achieve the status of a significant box office hit.
These early indicators, including the robust opening collection and the potential to recoup its budget swiftly, underscore the film's promising trajectory. As the movie continues to captivate audiences, its box office journey seems destined to solidify its position as a notable success within the realm of Indian cinema.
Click here for the latest news from Bollywood, Hollywood, South Film Industry, Bhojpuri and TV world… Click here to join the Facebook Page, Twitter Page, YouTube page and Instagram of Bollywood Mascot !