Britney Spears and Sam Asghari Reportedly Headed for Divorce Amidst Cheating Allegations
Hollywood singer Britney Spears and her husband, Sam Asghari, are reportedly on the brink of divorce after just 14 months of marriage. The couple's relationship has hit a rocky patch following a heated argument involving allegations of infidelity, as reported by American news outlet TMZ.
The news of Britney Spears and Sam Asghari's impending divorce comes in the wake of a tumultuous nuclear argument that has left their relationship strained. Allegedly, the conflict was ignited when Sam confronted Britney about allegations of her cheating on him. The ensuing confrontation escalated into a significant dispute, resulting in Sam's decision to move out of their shared residence and establish his own living arrangements. Sources suggest that the divide has become so pronounced that it's "only a matter of time before Sam files for divorce," as indicated by TMZ's report.
Formal Divorce Filing by Sam Asghari
Reports indicate that Sam Asghari, the Iranian-American model, officially filed for divorce from Britney Spears during the last week of July. The documents list July 28, 2023, as the official date of separation for the couple. Citing "irreconcilable differences" as the cause for their split, Sam's divorce filing marks a significant step in the unraveling of their union. While it is reported that Sam has not yet finalized the assessment of assets and obligations for both parties, the presence of a prenuptial agreement is expected to play a pivotal role in the financial aspects of their separation.
Britney Spears and Sam Asghari had a prenuptial agreement in place, ensuring a degree of financial clarity in the event of their separation. However, recent developments suggest a potential rift over this aspect. Page Six has reported that Sam has allegedly conveyed a threat to Britney, indicating that he may reveal "embarrassing information" about her unless the terms of the prenup are renegotiated. This unexpected turn has added another layer of complexity to their impending divorce.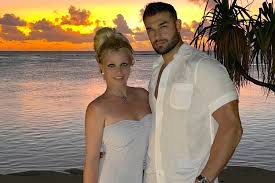 Britney's Social Media Amidst Divorce Rumors
Amidst swirling divorce rumors, Britney Spears took to her social media account to share a glimpse into her current state of mind. She posted a cheerful picture of herself and expressed her interest in purchasing horses. In her caption, Britney contemplated names for her potential equine companions and even pondered the idea of donning a pink cowboy hat. While the post exudes a sense of positivity, it also hints at the personal challenges she may be facing.
A History of Speculation
This isn't the first time that Britney Spears and Sam Asghari have been under the spotlight due to rumors surrounding their relationship. However, both parties have remained relatively tight-lipped on the matter, refraining from making public statements about any prior challenges. In May, Britney shared a video featuring Sam, expressing her appreciation for him as her husband. While glimpses of their relationship have been shared with the public, the recent developments highlight the complexities that can lie beneath the surface.
As the narrative surrounding Britney Spears and Sam Asghari continues to unfold, the public remains engaged, eager to glean insights into the challenges faced by the beloved singer and her husband. The journey ahead, marked by legal proceedings and potential revelations, holds the attention of fans and observers alike, shedding light on the intricacies of love, fame, and personal struggles in the world of Hollywood.
Click here for the latest news from Bollywood, Hollywood, South Film Industry, Bhojpuri and TV world… Click here to join the Facebook Page, Twitter Page, YouTube page and Instagram of Bollywood Mascot !