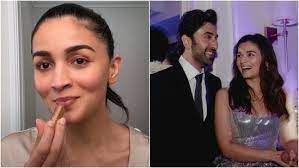 Bollywood News : Alia Bhatt's Candid Lipstick Revelation Sparks Controversy Amidst Praise for 'Rocky Aur Rani Ki Prem Kahani' Success
The world of Bollywood news is a buzz with discussions surrounding Alia Bhatt's recent revelation about her husband, Ranbir Kapoor, and his preferences regarding her lipstick choices. While Alia remains in the spotlight for her stellar performance in 'Rocky Aur Rani Ki Prem Kahani' and her upcoming Hollywood debut in 'Heart Of Stone,' a seemingly innocuous makeup tutorial video has triggered a wave of opinions and debates on social media.
Bollywood sensation Alia Bhatt has been garnering immense attention for her remarkable achievements, from the massive triumph of 'Rocky Aur Rani Ki Prem Kahani' to her eagerly anticipated Hollywood venture alongside Gal Gadot in 'Heart Of Stone.' However, her recent makeup tutorial video has garnered unexpected attention due to an intriguing revelation about her husband, Ranbir Kapoor.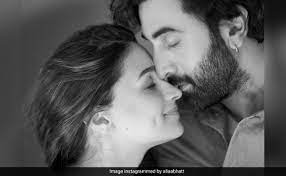 Bollywood News: Alia's candid confession "Wipe It Off"
In the video shared by Vogue India on its official Instagram account, Alia takes fans behind the scenes of her unconventional lipstick application technique. Instead of the conventional method, Alia swipes her lips across the lipstick, resulting in a unique yet effective outcome. However, it's her explanation behind this approach that has ignited a firestorm of discussions.
Alia Bhatt, in her signature candid manner, unveiled that her actor-husband, Ranbir Kapoor, prefers her natural lip color and often requests her to "wipe off" her lipstick. This seemingly innocuous confession, though, has evoked diverse reactions from netizens, sparking a heated debate about relationship dynamics and gender roles.
The revelation has stirred mixed reactions across social media platforms, shedding light on varying perspectives on relationships and autonomy. While some netizens expressed concern, labeling Ranbir Kapoor's preferences as "controlling" and reminiscent of toxic behavior, others defended the notion of accommodating a partner's preferences out of love and mutual respect.
Critics of the revelation voiced their opinions, with comments like "Very Kabir Singh that sounded," drawing parallels between Ranbir Kapoor's stance and the titular character of the film. Others questioned the implications of such preferences within a modern relationship, prompting discussions about equality and self-expression.
Amid the tumultuous debate, a group of fans came to Alia Bhatt's defense, emphasizing that accommodating a partner's preferences is a common occurrence within relationships. Supporters argued that expressing preferences doesn't necessarily equate to promoting misogyny, highlighting that couples often navigate such nuances while maintaining individual agency and choice.
Some enthusiasts pointed out that Alia Bhatt's successful career and independence undermine claims of oppression or subservience. They highlighted that a single revelation should not overshadow her accomplishments and contributions to the entertainment industry.
The multifaceted conversation surrounding Alia Bhatt's lipstick revelation underscores the complexity of relationships in the modern era. As Bollywood enthusiasts continue to dissect the implications and dimensions of this disclosure, Alia's star continues to shine bright. While 'Rocky Aur Rani Ki Prem Kahani' has propelled her to new heights of fame, her impending Hollywood debut has added an international allure to her journey.
As the spotlight remains on Alia Bhatt and her narrative unfolds, the enduring allure of Bollywood news continues to captivate audiences, revealing the intricate interplay between personal choices, relationships, and the broader societal discourse.
Click here for the latest news from Bollywood, Hollywood, South Film Industry, Bhojpuri and TV world… Click here to join the Facebook Page, Twitter Page, YouTube page and Instagram of Bollywood Mascot !