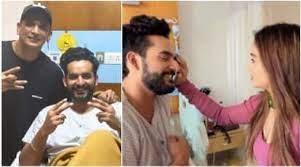 Bigg Boss OTT 2 Finale: Elvish Yadav's Landslide Victory with 280 Million Votes, Heartfelt Hospital Visit by Manisha Rani
The electrifying saga of Bigg Boss OTT 2 may have culminated on Monday, but the fire it ignited among fans continues to blaze. In a stunning denouement, YouTuber Elvish Yadav was crowned the triumphant victor of the Salman Khan-hosted spectacle, leaving Abhishek Malhan, fondly known as Fukra Insaan, in the illustrious second position. Amidst the exhilarating celebrations and adrenaline-charged moments, a touching gesture of friendship emerged, as Manisha Rani, Abhishek's dear ally on the show, paid him a heartfelt visit in the hospital where he was receiving treatment for dengue.
With the shimmering trophy adorning Elvish's hands, his joyous victory reverberates throughout the nation. The captivating charm and charisma he exuded on-screen translated into a staggering accomplishment, as he revealed in a heartwarming video. A close friend of Elvish shared a momentous revelation – during the intense finale's live voting, a staggering 280 million votes were cast in favor of the victorious YouTuber. Such an astounding show of support underscores the magnetic appeal Elvish held over his legions of fans, securing his legacy as the quintessential Bigg Boss OTT 2 champion.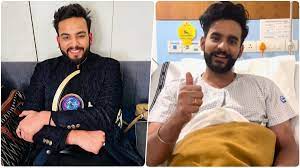 While Elvish Yadav's revelry captured the spotlight, the emotions were equally fervent on the other side of the spectrum. A poignant chapter unfolded as Manisha Rani, a true friend in every sense of the word, made her way to Abhishek Malhan's hospital room along with her father. Amidst an aura of genuine care and concern, Manisha embraced Abhishek, her actions speaking volumes about their unbreakable bond. Penning an affectionate note, she expressed that Abhishek may not have clinched the trophy, but he had undoubtedly conquered the hearts of an entire nation, and most notably, her own. She described him as the "Hero of Bb ott season 2," acknowledging that his presence had transformed her journey within the Bigg Boss OTT 2 house, making it an experience she would cherish forever. Manisha's tender words echoed the sentiments of fans who recognized the irreplaceable camaraderie shared between the two contestants.
In the tender video capturing Manisha's visit, the hospital room ambiance was illuminated by heartfelt conversations and warm exchanges. As Manisha interacted with Abhishek's family, the authenticity of their connection was palpable, dispelling any romantic conjecture. Despite the speculation surrounding their relationship, Manisha clarified that their friendship transcends the boundaries of romance, resonating on a level of purity and companionship that remains untainted.
Amidst this tapestry of emotions, another heartwarming visitor graced Abhishek's bedside – none other than Bigg Boss 9 winner and esteemed actor, Prince Narula. This alliance of champions, captured in poignant photographs that swiftly took social media by storm, encapsulated Prince's unwavering support for Abhishek. Fans rallied behind this touching gesture, celebrating the camaraderie between these remarkable individuals who shared a common journey through the realm of reality television.
Elvish Yadav reveals that one of JioCinema's heads says him that he received a record-breaking 280 MILLION votes in 15 minutes Live voting 🤯🤯🤯pic.twitter.com/OY5BwCuNJi

— #BiggBoss_Tak👁 (@BiggBoss_Tak) August 15, 2023
As the chapters of Bigg Boss OTT 2 continue to unfold, Elvish Yadav revels in the glory of his remarkable triumph, while Abhishek Malhan battles dengue with the spirit of a true warrior. Manisha Rani's visit and the unwavering support of Prince Narula serve as poignant reminders of the profound connections forged within the Bigg Boss realm. The legacy of Bigg Boss OTT 2 endures, each twist and turn etching unforgettable stories of triumph, camaraderie, and unwavering friendship into the annals of reality television history.
Click here for the latest news from Bollywood, Hollywood, South Film Industry, Bhojpuri and TV world… Click here to join the Facebook Page, Twitter Page, YouTube page and Instagram of Bollywood Mascot !