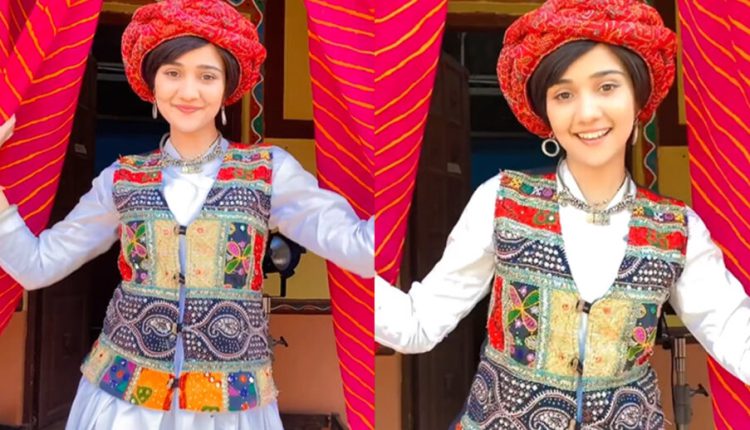 Ashi Singh aka Meet as Rajasthani Girl, Is not she looking cute ? See Pics
Ashi Singh posted a video on Instagram of herself grooving to the classic song "Luk Chhup Na Jao Ji" while dressed in traditional Rajasthani garb. The actress was seen dancing to the tune while mastering some traditional Rajasthani folk dance moves.
"I love this song," the actress wrote on the reel. She also used hashtags like "#AshiSingh #AshiSinghReels #Chaudhary #Meet #MeetBadlegiDuniyaKiReet #MeetHooda #MeetOnZeeTv" and "#AshiSingh #AshiSinghReels #Chaudhary #MeetBadlegiDuniyaKiReet Take a look at this-
https://www.instagram.com/reel/CYF_ULKNH1d/?utm_source=ig_embed&ig_rid=b443d123-842c-4492-a7b5-d5db9db8190f
The actress's dance moves in the video perplexed many of her followers. "Yaarrr ye kitni sundar hai," one said, while another wrote, "How incredibly gorgeous and sweetest."
Recently 'Meet' actor Ashi Singh has opened out about her experience filming a freezing honeymoon episode in Rajasthan for a future episode of the show. Ashi, who plays Meet Hooda, is now filming in Bikaner with her co-star Shagun Pandey. Both are doing very good in the serial titled by 'Meet' airing on channel Zee TV. Ashi who has already done serials like 'Yeh Un Dino Ki Baat Hai' and 'Aladin: Naam Toh Suna Hoga' etc, has a huge fan following on her social media.