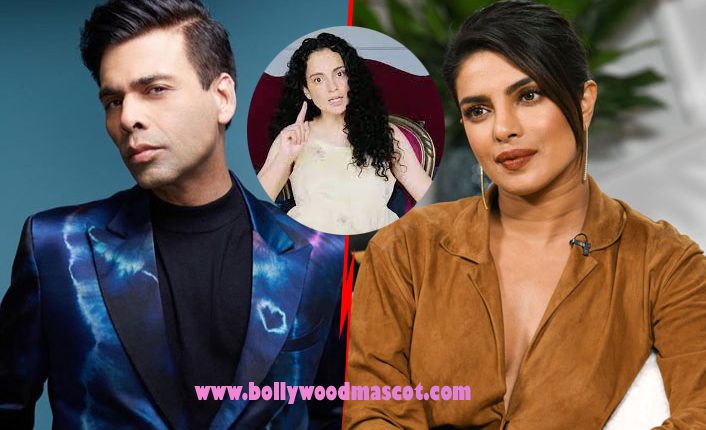 Why did Priyanka Chopra ignore Karan Johar? Know what Kangana Ranaut said on this matter
Recently, Priyanka Chopra explained why she decided to transfer from Bollywood to Hollywood. After experiencing disappointment in Bollywood, Priyanka explained why she chose to pursue a career in Hollywood. Kangana then tweeted that Karan Johar was to responsible for this.
Everyone is in disbelief following Priyanka Chopra's most recent disclosures regarding the treatment she received in Bollywood. Priyanka Chopra recently claimed that she was being boycotted in Bollywood during an interview with a podcast.
At the height of her fame, Priyanka claimed that she was unable to find work in Bollywood and turned to Hollywood. Following this disclosure, a few Bollywood celebrities also spoke out in Priyanka's defence. Everyone is aware of what Karan Johar has done with Priyanka Chopra, Kangana Ranaut wrote in a tweet.
Following Kangana's remark, memories of the conflict between Priyanka and Karan have recently resurfaced. But in 2018, Priyanka Chopra also made it to Karan Johar's show a few years later.
This was expressed by Priyanka's buddy about Karan
There were rumours of Priyanka Chopra and Shah Rukh Khan's friendship in 2012. There was a report in the Mumbai Mirror at the time that Priyanka had been the target of backstabbing at a party.
According to a friend of Priyanka who was featured in this article, a powerful Bollywood filmmaker made a derogatory remark about her. Later, without mentioning anyone specifically, Karan Johar commented on Twitter: "Hiding behind friends and exploiting their PR machinery, that too to get a position in the press." This only demonstrates weakness. Some folks require a coffee wake-up call. Prior to it being too late, reality needs to be checked. Do not interfere with goodness.
Karan Johar's remark received no response from Priyanka Chopra
Priyanka Chopra did not respond to Karan Johar's remark after this. Karan revealed to everyone that he had yelled at Priyanka later. I called Priyanka, he claimed, and I took up the phone and responded like a pressure cooker. Eventually I understood that I didn't need to do this. She was about to turn 40 when I called. I have a great emotional connection to her. I enjoyed my interactions with Priyanka Chopra. I made the choice to act maturely because I am older than her.
Karan Johar had stated in an interview with Hindustan Times shortly after that, in September, "Today I can tell that there is no conflict between Priyanka and me. I've had a great working and personal connection with Priyanka, and I want it to stay that way.
Click here for the latest news from Bollywood, Hollywood, South Film Industry, Bhojpuri and TV world… Click here to join the Facebook Page, Twitter Page, YouTube page and Instagram of Bollywood Mascot !