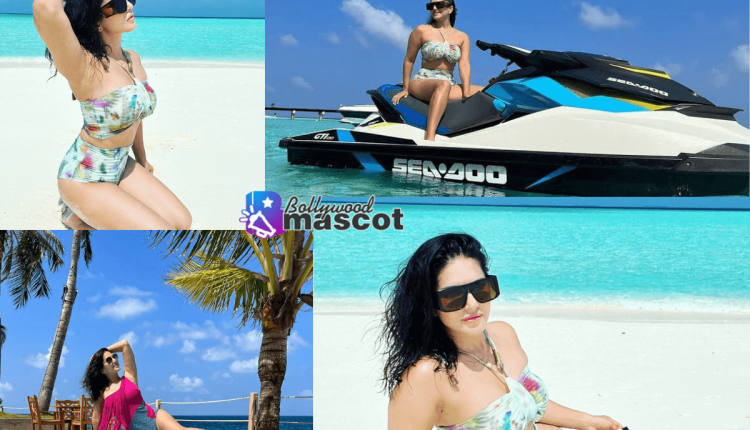 Sunny Leone Maldives Bikini Pictures 2022
Sunny Leone is the first name that comes to mind when we talk about gorgeous or beautiful and hot Bollywood actresses. She has demonstrated many times through her activities that she understands how to stay in the spotlight and maintain a big fan base. Along with the actress's conduct, her innocent actions make it difficult for fans to distance themselves from her. Just posted photos of Sunny Leone bikini photos in the Maldives on her social media. Sunny Leone's look in the pictures is really hot. Let's have a look at some of Sunny Leone's hot pictures from the Maldives.

Let's Vacation with Sunny Leone in Maldives
Sunny Leone wearing bikini in Maldives that is pink and blue in color. Sunny has also worn a shrug over her bikini, which can be seen dangling off her shoulder in several photos. Sunny Leone was frequently seen sans make-up in such images. Let us point out that she is wearing light make-up in these images. Her bikini is pink, and she's wearing pink earrings to match the color of her bikini. Sunny Leone on the beach has wished her fans 'Good Morning' via social media directly from the Maldives, posing with sultry looks and long open hair.
Sunny Leone in Maldives
Despite her hectic schedule, the actress is highly active on social media and maintains contact with her admirers. She also uses reels on Instagram, where she keeps her followers entertained by posting videos on trendy topics and all. Don't miss that she is currently in India, See Sunny Leone beach pics.
Sunny Leone Song Madhuban was opposed by Fans
After listening to the song Madhuban, which was released in December of last year, Sunny Leon's followers erupted in rage. Let us inform you that after Sunny posted that song on social media, she started getting negative feedback or comments. Sunny Leone's song was deemed inappropriate and filthy by users.
Sunny's dance in the name of Radha and Radhika in this song, they claim, is offensive. Hindu sensibilities are being harmed as a result of this. The song Madhuban, performed by Kanika Kapoor and Arindam Chakraborty, is not an original composition. Actually, this song was first recorded in 1960 for the film Kohinoor, and Mohammed Rafi contributed his lovely voice to the same song.



Sunny Leone Latest Bikini Pictures
Sunny Leone devotes the same amount of time to her personal and professional life. She is also always spotted on social media having fun with her children. She is frequently photographed with her husband, Daniel Bieber. Noah, Asher, and Nisha are the actress's three children. Sunny has adopted Noah and Ashar's son Nisha, who was born through surrogacy. Also Read: Marriage Images of Ankita Lokhande and Vicky Jain




Sunny Leone Bikini Pictures
Sunny Leone has quickly established herself as a unique figure in Bollywood in a very short time. Regardless of this, maintaining your personal life is challenging in itself. Let us inform you that the actress got her start in Bollywood by way of Big-Boss. After that, she had given back-to-back hit films, and her Bollywood fan base continued to increase. Along with her followers, she has a large number of detractors. Some people make assumptions about her based on her prior occupation. Hope we Enjoy the pictures of the actress direct from the Maldives. Also Check: Aashram Actress Tridha Choudhary Stunning Photos