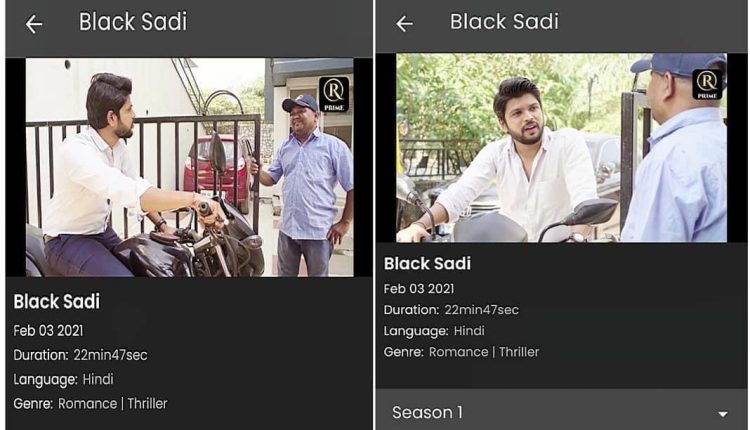 People have adopted OTT and loving to watch web series : says Satyyaa Patel
Actor and Model Satyyaa Patel is quickly making his way through entertainment industry
Satya Patel is an actor who is rising up the ladder in Indian entertainment industry. He is both an actor and model, who is quickly paving his way and becoming a household name.
He was born and brought up in Maharashtra. His birth name is Satish Chandra M Patel. His family was a traditional Gujarati family so he never imagined that he would ever rise to fame in the entertainment industry. He became everyone's favourite at such a young age.
Satyyaa completed his schooling from Shriram Asegaonkar in Pusad. For higher studies, he pursued Diploma in Mechanical Engineering from MSBTE Mumbai University. This is highly contrast to the field he is currently in, which proves that it is never too late to recognise and pursue your actual dream.
However, more specifically, Satyyaa did have a knack for fashion since childhood. In fact, he even got praised for his physique and sense of fashion.
Satyyaa started off his career by partaking in modelling shows. This included shoots and fashion show events. In 2018, he even received the title of " Mr Gujarat Fashion Stylist of the year". This accelerated his fame and all of the top organisers and photographers wanted to work with him.
After modelling, he bagged his first short film titled "Regret- no chance for remorse" by runi films. After this, he got some side roles in Gujarati television. Out of all the shows he bagged, 'Gujarat's Got Talent Season 1' and 'Next Supermodel of Gujarat, 2020' has to be his top shows. Who has not heard of India's Top Model 2021? Satyyaa was even a jury member in India's Top Model 2021 during the Baroda Audition.
Satyyaa has a very optimistic attitude on life. When asked about the impact of the current crisis on Indian cinema, he said that just because the concept of watching cinema halls is alien to people right now does not imply that it's a dead end for Indian cinema. In such terrible times, the positive impact of cinema has been a blessing and people have turned to OTT services to get their daily dose of
'masti'. In fact Platforms such as Amazon Prime, Netflix, Disney Plus Hotstar, zee5, etc have been running pretty well as an alternative.
Satyyaa Patel indeed believes that web series streamed on such platforms can be a strong competitor to traditional cinema even after lockdown situations cease. Since it is relatively low budget compared to traditional cinema, it has given directors and actors the opportunity to express their creativity without having to worry much about funding. Satyyaa has also noticed that due to an increase in the production of webseries, there has also been an influx in newbie actors who are finally getting the chance to debut. This is also partly because, many people dismiss new talents when they act for the big screen- nobody wants their first film to be a flop, right?
Satyyaa Patel has also hopped onto this train and has released a new Hindi web series called 'Black Sadi'. He carried out the entire process of auditioning while maintaining the covid guidelines and successfully managed to complete it. 'Black Sadi' has been getting good reviews after release as well.
Satyyaa Patel has said that he has no time for love even though he is the crush of many. He backed up his statement by saying that he has worked and sweated a lot to reach where he currently is.
Thus, there is no time to look back or focus on something else. He wants to keep working hard and move forward. Quite the determination, isn't it?