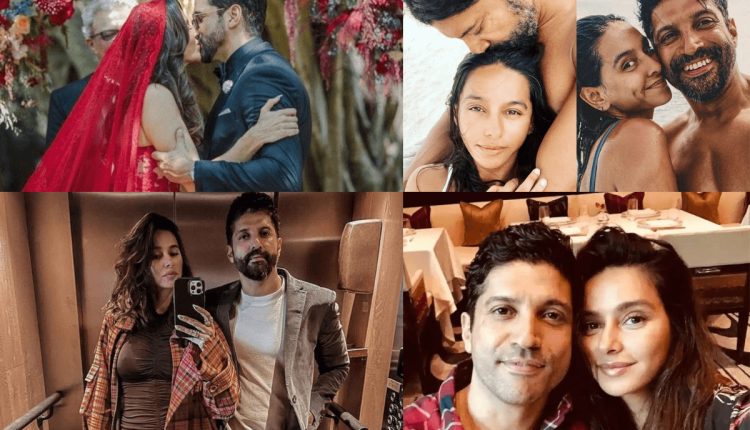 Farhan Akhtar and Shibani Dandekar Wedding Pictures
Shibani Dandekar and Farhan Akhtar marriage is still being discussed in the media, just as it was a week ago when they were both married. If you didn't already know, Farhan Akhtar and Shibani Dandekar have married. 'Akhtar Khandaan' now has Shibani as his daughter-in-law. Now, let's talk about some unique aspects of both, and show you Farhan Akhtar Wedding Pictures.
Farhan Akhtar Shibani Dandekar Age Difference
Do you know Farhan Akhtar age? You may not be certain of Shibani Dandekar age. Let us remind you that actor Farhan Akhtar was born on January 9, 1974, and his current age is 48 years. Shibani Dandekar, according to her date of birth on August 27, 1980, is 41 years old. When looking at the couple's birth dates, it can be seen that Shibani Dandekar and Farhan Akhtar age difference is about 7 years.
Farhan Akhtar and Shibani Dandekar Love Story
There are many Bollywood couples whose love stories do not end in marriage. Only a few rare couples are able to bring their love story to the wedding, and Ranveer Singh and Deepika Padukone are one of them. If we're talking about Farhan Akhtar and Shibani Dandekar love story, we should mention that they met on a reality show where Farhan was the host. From then, both of their love stories started. Initially, neither of them revealed their relationship to anyone. However, their relationship became more public with time, and they married on February 19, 2022.
Farhan Akhtar First Wife and Daughters
Let us point out to you that this is Farhan Akhtar's second marriage. Farhan had previously divorced after marrying someone else. Do you have any idea who Farhan Akhtar first wife is? His first wife was Adhuna Bhabani Akhtar. Adhuna works as an English Hair Stylist. In the year 2000, Farhan Akhtar and Adhuna Bhabani Akhtar got married. From this marriage, the couple had two daughters. In 2017, the couple decided to be separated.
Farhan had only progressed forward in life with Shibani after that. Farhan's relationship with Shibani has now taken on a new level with their marriage. Both Farhan's daughters were present at the recently concluded marriage of Farhan Akhtar and Shibani Dandekar. Both daughters Shakya Akhtar and Akira Akhtar were enjoying their father's second marriage. The pictures of Shakya Akhtar and Akira Akhtar clicked with Farhan Akhtar and Shibani Dandekar are becoming very viral on the internet. Also check: Priyanka Chopra And Farhan Akhtar To Star In Shonali Bose's Next
Farhan Akhtar Famous Movies
You're probably aware that Farhan Akhtar is a well-known actor. In blockbuster films like 'Bhaag Milkha Bhaag, Toofan,' he has provided a spectacular performance as an actor. Farhan has excelled not only as an actor, but also as a director, screenwriter, playback singer, and show presenter. Under his label, he has also produced a number of films.
Shibani Dandekar as an Actor
Shibani Dandekar, on the other hand, is an Indian vocalist who has done playback singing for a number of Bollywood films. Shibani also does acting and modeling along with singing. She has not only worked in films but also in many TV serials. Shibani's major works include Salman Khan's film Sultan, Ranbir Kapoor's film Roy and others.
Also Check: All About Farhan Akhtar Shibani Dandekar Wedding Date