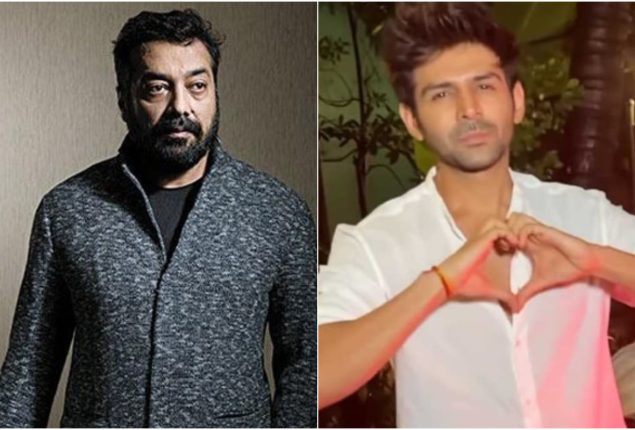 Anurag Kashyap Acknowledges Kartik Aaryan's Journey in the Film Industry
Bollywood News: In a recent candid conversation with Pinkvilla alongside director Akshat Ajay Sharma for their upcoming project "Haddi," renowned filmmaker Anurag Kashyap shared his thoughts on actors receiving recognition later in their careers. In particular, he shed light on the journey of talented actor Kartik Aaryan, emphasizing the importance of earning one's due time in the industry.
Anurag Kashyap, known for his unfiltered opinions, stated, "I believe everyone should get their due time. If someone achieves it too quickly, they may lose it just as swiftly. Look at other stars too, like Kartik Aaryan. How long did it take for him to reach where he is now? It's the same for anyone else; if they attain it too rapidly, they might also lose it just as swiftly," in Hindi.
This candid remark from Anurag Kashyap highlights the roller-coaster journey that many actors in the entertainment industry often experience. It underscores the significance of persistence and gradual growth, even in an industry known for its unpredictability.
On the professional front, Anurag Kashyap is currently seen in "Haddi," a project that also features the talented Nawazuddin Siddiqui in the lead role. Meanwhile, fans eagerly await the release of Kashyap's directorial venture, "Kennedy," which has garnered attention at various international film festivals.
Kartik Aaryan, on the other hand, is making waves with his upcoming project titled "Chandu Champion." A month ago, the makers unveiled his look poster, showcasing him with a buzz-cut hairstyle and an intense expression, leaving fans intrigued and excited about his next cinematic outing.
As the film industry continues to evolve, Anurag Kashyap's observations serve as a reminder that success often comes to those who patiently persevere, and Kartik Aaryan's journey stands as a testament to this enduring principle.
Click here for the latest news from Bollywood, Hollywood, South Film Industry, Bhojpuri and TV world… Click here to join the Facebook Page, Twitter Page, YouTube page and Instagram of Bollywood Mascot !