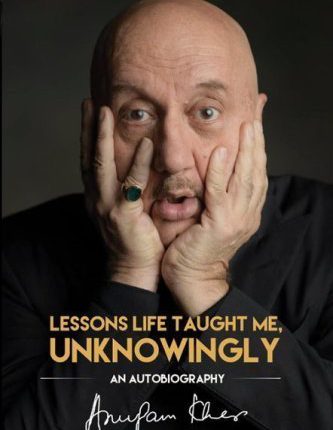 Anupam Kher Unveils His Auto-Biography Lessons Life Taught Me, Unknowingly
Veteran actor Anupam Kher is out with his auto-biography, titled Lessons Life Taught Me, Unknowingly, and expresses that he started writing it when he was actually 10 years old.
The actor just took to his social media profile and announced his book with a pre-order link, if people want to buy it prior to hitting the stands. He captioned it, "It won't be an exaggeration if I say that I started writing my autobiography at the age of 10. SInce then I have lived my ups & downs & also captured them. Time to share my life with you all in a book form"
The book – an extraordinary, riveting and no-holds-barred saga studded with fascinating behind-the-scenes revelations, anecdotes and rare nuggets of lessons an up am kher's life story is nothing short of a grand masala box office hit. It has drama, comedy, romance and even action! Who knew that a small-town Shimla boy would one day become one of the most recognized actors in the world and go on to win various national and international Awards for his contribution in the field of cinema and arts!
A powerhouse of talent with over 530 films (and counting) in his repertoire, Anupam Kher stands out not only because of his iconic bald head, but also for his forthright views and opinions, however controversial they may be. He has always been distinct and offbeat.
On the work front, Anupam Kher will be seen in One Day: Justice Delivered, an action thriller film starring Esha Gupta, Kumud Mishra and Anusmriti Sarkar. It follows investigation by a police officer, into the vanishing of important persons in a state capital.