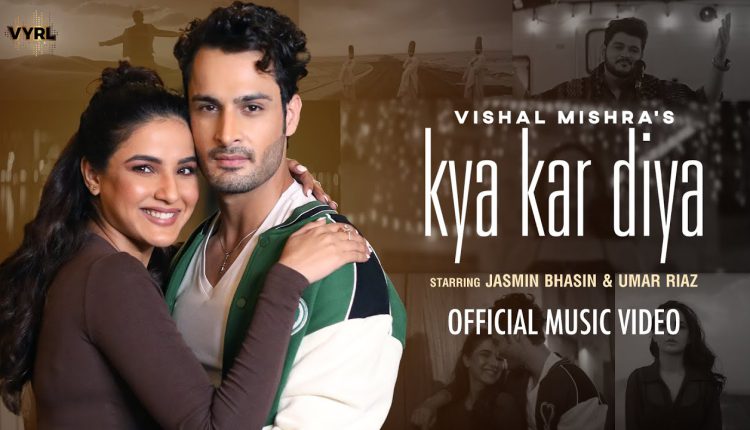 Kya Kar Diya Official HD Video Song by Vishal Mishra



VYRL Originals presents Kya Kar Diya HD Video Song by Vishal Mishra is one more remarkable melody that portrays sentiments about lost and hurt in-person love. The music video includes the excellent Jasmin Bhasin and the most cherished entertainer Umar Riaz. The tune has been composed by Vishal Mishra and Kaushal Kishore. The music video has been wonderfully coordinated by Dibya Chatterjee.
The tune is an ideal mix of Arabic-Indo combinations that is never been finished. It's a tune about the repercussions of affection with a ton of thoughts that changes an individual's character.
Kya Kar Diya Song Lyrics
Dil ki baton ke mare hue hain
Ishq mein hum to hare hue hain
Apne hi ghar me hain bhatke hue
Haaye kitne bechare hue hain…..
Kaise hanste the hum
Kaise rone lage
Haal kya kar diya ye tere pyaar ne
Antra
Also Check: Mast Nazron Se Song Full Song
Seene me jinke hum dil banke rahte the
Kya kya wo kehte the…ab kya kahein
Raston pe meri jo palkein bichhate the, raste pe wo hamko chhod chale
Jaise doobe kinare hue hain
Hum to toote sitare hue hain
Tere sitam leke phirte hain hum
Tere gham ke saware hue
Jeete jeete sanam laash hone lage
Yun tabah kar diya hai tere pyaar ne
Also view: The Kashmir Files Review
Kaise haste the hum
Kaise rone lage
Haal kya kar diya ye tere pyaar ne



Kya Kar Diya HD Video Song Available On:
Gaana – https://gaana.com/song/kya-kar-diya
Wynk – https://wynk.in/u/xnRufKqD8
Resso – https://m.resso.com/ZSdLv1orR/
Kya Kar Diya HD Song Audio Credits
Composer & Singer – Vishal Mishra
Produced & Arranged- Vishal Mishra
Lyrics- Vishal Mishra & Kaushal Kishore
Music Assistant- Kumar Gaurav Singh
Recording Engineer- Trihangku Lahkar
Dholak Recorded by – Sethuraman
Mix & Mastered by – Eric Pillai
Guitar & Strokes by – Shomu Seal
Dholak & Percussions by – Raju Sardar & Arun
Clarinet by – I D Rao



Video Credits
Starring- Jasmin Bhasin & Umar Riaz
Production House- Mayur Hasija Films
Director- Dibya Chatterjee
Cinematography- Abhimanyu Sengupta
Cheif AD & Story- Deep Pithwa
Creative head & Production Design – Rhea Jiandani
Supporting Actor- Lavisha Gulati
Executive Producer- Mayur Hasija
Video Supervisor- Manish Saini
Second AD's – Aman Baath, Tajinder
Line Production- Akshay Kapoor (Dubai)
Editor : Nitin FCP



Online & DI : Nadeem Akhtar
Costume Stylist : Richa Singh
Steadicam :  Asem Mohammed Aman
Focus Puller : Ibrahim
Hair & Make up : Gayatri Chakravarthy, Junaid Khan (JM)
Art Director : Naima Hossain
Poster- Aman Kalsi
Legal – Abhijeet Shukla (Aksjuris & co)
Also check: 200 Crore Club Bollywood Movie & Jannat Zubair Rahmani