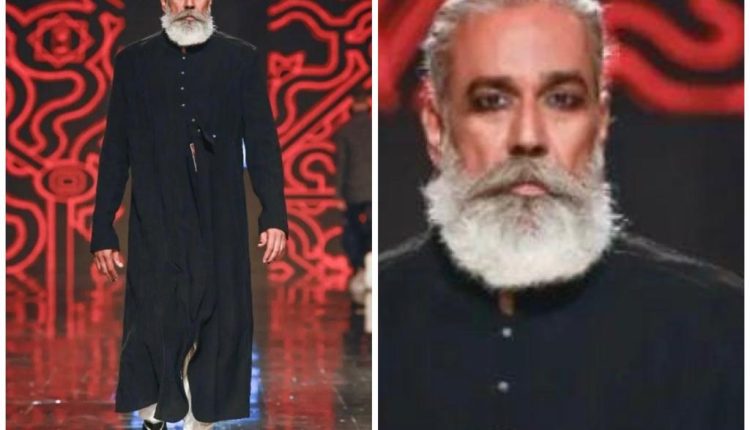 Sudhir Padiyar Veteran Model focusing on movies after Lakme fashion week success
It was the opening day of, the much-awaited fashion extravaganza in the country, the Lakme Fashion Week (Mumbai). The show is known for its grandeur, with several celebrity designers showcasing their stories, through their garments, to packed audience over a 5-day festival.
As the audience were glued to their chairs, watching young, beautiful and ripped models gliding down the runway displaying their designer collection, they were in for a big surprise. A lanky, grey haired, bearded model suddenly makes an appearance. As the model strutted down the ramp, dressed in a rich black overcoat and stylish pants, the audience was enthralled. Meet Sudhir Padiyar, a 52-year young stock investor & corporate consultant turned ageless model. With most of his life spent in the corporate world, it was only late last year that he began his journey in the fashion world. His unusual looks and fierce personality got him a lot of appreciation and since then he has modelled for several designers in India and overseas. His long salt n pepper wavy hair, silver handlebar moustache, a well-groomed gray beard and a fit body frame commands audience attention every time he walks the ramp. "After all, age is merely a number and one's attitude will determine their altitude" says Mr. Padiyar, who also is a fitness enthusiast and works out 5 days a week when he's not travelling on business or shows.
Ridiculed for his thin structure and funny looks in his younger days, he decided to take the matters in his hands and started working on building his personality. "How you look is God send, to a large extent. You can't do much about it. Rather than brooding over it, I chose to get people to focus on other things in me, my personality for instance. I worked hard on my communication, interpersonal skills, attitude, styling etc. The world will always find sufficient faults in you. Work hard on building traits that makes them ignore those 'faults' and focus on your strengths." comments Mr. Padiyar.
"Believe in yourself and don't let the society dictate how you should live your life" he continues. "When I ditched the dye 2 years back, I was again ridiculed. My family kept reminding me on how I probably looked as old as my father. This continued when I started growing my hair, post covid. My friends threatened to 'un-friend' me as I was looking 'uncool and old'" he chuckles. "But I was firm in my thoughts. I am what I am. And if I'm graying, why shouldn't I learn to embrace my grays? Why is looking 'your age' embarrassing? Time proved all of them wrong. The recognition and appreciation I have received, for my looks, in the last one year has been unprecedented, much to the surprise of my friends and family alike" says Mr. Padiyar with a grin. He continues "Not only has these looks gained me loads of appreciation on prestigious platforms like 'Bombay Times Fashion Week' and 'Lakme Fashion Week', but also has caught the fancy of movie producers from the south who are in discussions with me for casting me in their film"
So, what is the message that Mr. Padiyar wants to leave the world with? "Dare to dream. No age is right or wrong to dream and work towards your dream. Don't let others dictate their terms on you. Believe in yourself and nothing in this world can stop you from living all your dreams. But, more importantly, plan your financial independence journey early enough so that you can work on achieving your dreams, later on, when you are yet younger and healthier. Start living, stop existing."
Click here for the latest news from Bollywood, Hollywood, South Film Industry, Bhojpuri and TV world… Click here to join the Facebook Page, Twitter Page, YouTube page, and Instagram of Bollywood Mascot!