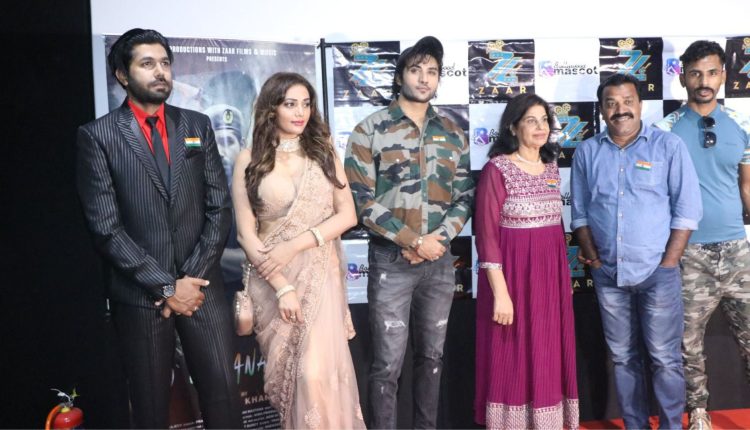 Song Oo Watana Ve ! to Enchant Audiences on August 15, 2023, directed by Zuber K Khan starring Imran Ali and Rakshika Sharma
In a thrilling and heartfelt tribute to the spirit of the nation, the much-anticipated song "Oo Watana Ve!" is poised to make its debut on August 15, 2023. Penned and directed by the acclaimed Zuber K Khan, this patriotic anthem promises to touch the hearts of audiences with its compelling performances and soul-stirring melodies.
Featuring an ensemble cast led by Imran Ali and Rakshika Sharma, supported by Yogita Manwani, Sansar Rana, and Shehzad Alam Khan, "Oo Watana Ve!" weaves a poignant narrative that captures the essence of patriotism. The masterful storytelling of Khan is set to bring a powerful and thought-provoking experience.
Under the collaboration of AIWA Productions and Zaar Films & Music, the song emerges as a seamless blend of music and visuals. The Director of Photography, Ritesh Gupta, and Creative Director Prachi Sarkar, ensure that the visuals resonate with the song's message.
According to Bollywood Ki Baten The music, composed by Manu Rajeev and lyrics penned by Karan Mastana, form an emotionally charged soundscape. Prakash Dey's vocals, complemented by the chorus led by Mridula Naik and team, add depth to the anthem. Trinity Sounds Studio and Agni Digital Studios Pvt Ltd contribute to the immaculate sound quality.
With a special appearance by Zuber K Khan himself, the song gains a personal touch that further underscores its patriotic theme.
As the song's release coincides with the nation's independence celebrations, "Oo Watana Ve!" is poised to kindle a renewed sense of unity and pride. With a captivating cast, visionary director, and dedicated production team, the anthem promises to leave an indelible mark on the hearts of all who listen. Mark your calendars for August 15th and prepare to be moved by the resonating melody of "Oo Watana Ve!"
Click here for the latest news from Bollywood, Hollywood, South Film Industry, Bhojpuri and TV world… Click here to join the Facebook Page, Twitter Page, YouTube page and Instagram of Bollywood Mascot !