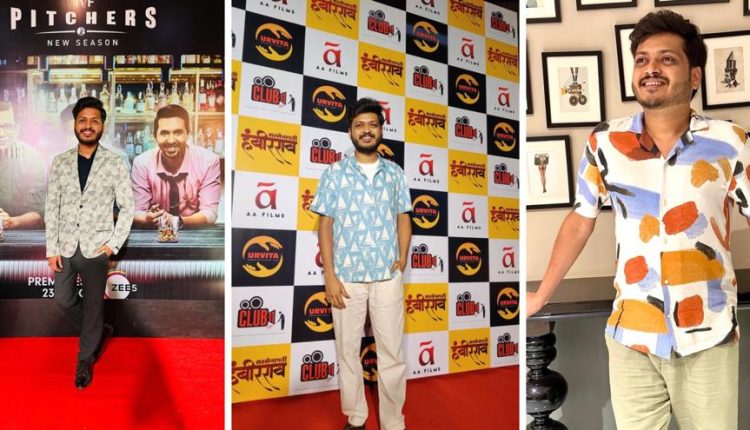 Shantanu Shrikant Bhake The Rising Star of Bollywood Casting Industry!
Born on March 12, 1992, in Nagpur, Maharashtra, Shantanu Shrikant always had a passion for films. He pursued his dreams and graduated in film studies from Mumbai University. He then started working as an assistant casting director, and his hard work and dedication soon paid off.
Shantanu's big break came when he was appointed as the associate director for the documentary film Sachin: A Billion Dreams in 2017. This documentary revolved around the life of Sachin Tendulkar. The film directed by James Erskine was critically acclaimed, and Shantanu's contribution to the film was widely appreciated. He then went on to work on several other big-budget films, of which all were successful at the box office.
One of Shantanu's most significant achievements was winning an award by the Radio City Mid-day OTT Hitlist Award for the Best Ensemble Cast category in 2023. He was recognized for his casting efforts for the web series Pitchers S2 on Zee 5. This award recognizes the contribution of casting directors to the film industry, and winning it is a significant achievement for any casting director. What sets Shantanu Shrikant apart from other casting directors is his ability to understand the director's vision and bring it to life through his casting choices. He has an eye for talent and knows how to spot potential in actors. He believes that casting is not just about finding the right face but also about finding the right fit for the character. Shantanu's casting process is meticulous and detailed. He spends hours researching and analyzing the characters and their backstories to ensure that he finds the perfect actor for the role. Shantanu Shrikant also works closely with the director to understand their vision for the film and ensures that the casting aligns with it. One of the most significant challenges that Shantanu Shrikant faces as a casting director is dealing with the pressure of finding the right actors for the roles. Casting is a time-consuming and challenging process, and finding the right actors who can bring the characters to life is not an easy task. However, Shantanu's dedication to his craft and his passion for films keep him motivated. Apart from being a casting director, Shantanu has also dabbled in acting.
Shantanu Shrikant has worked on films like Sooryavanshi and Simba along with Marathi films like Dharmveer, Anandi Gopal, Bucket List, Baba, Dagadi Chawl 2 and many more. His upcoming films include a Web show named Indian Police Force by Rohit Shetty, Pooja Entertainment's Hero no 1 directed by Jagan Shakti and Color Yellow's Phir Aayi Hasseen Dilruba directed by Jayprad Desai.
Shantanu's heart lies in casting, and he plans to continue working in the industry as a casting director. In a world where the casting industry is often overlooked, Shantanu Shrikant Bhake is a rising star who is making a significant impact. His contribution to the industry is invaluable, and his dedication and passion for films are truly inspiring. With his talent and hard work, he is sure to achieve great success in the years to come.
To quote it right, Shantanu Shrikant Bhake is a name that is slowly but surely making its mark in Bollywood's casting industry. His work speaks for itself, and his dedication to his craft is truly commendable. As he continues to work on more films, we can't wait to see what he has in store for us in the future.
Click here for the latest news from Bollywood, Hollywood, South Film Industry, Bhojpuri and TV world… Click here to join the Facebook Page, Twitter Page, YouTube page and Instagram of Bollywood Mascot !