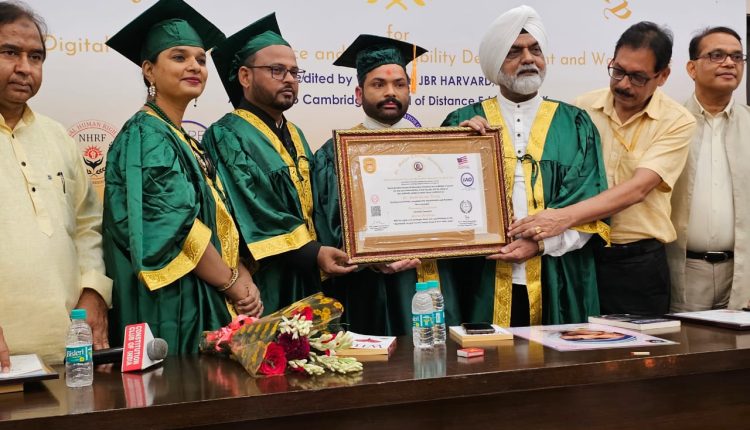 Renowned Media Personality Sunil Kumar Verma 'Sonu' Presented with Honorary Doctorate
New Delhi, August 20, 2023 – Sunil Kumar Verma, popularly known as 'Sonu,' a celebrated media personality and respected journalist, has been honored with an esteemed honorary doctorate by Mother Teresa University. The ceremony, held in New Delhi, served as a testament to his significant contributions to the world of journalism and his remarkable impact on society.
A Glimpse into Sunil Kumar Verma's Life
Born on July 25, 1992, in Sarfaraz Ganj Marhmat Nagar, Uttar Pradesh, Sunil Kumar Verma 'Sonu' embarked on a journey that would redefine journalism's role in shaping public discourse. Raised in a family that values integrity and social responsibility, Sonu's formative years laid the foundation for his future endeavors.
Pioneering Career in Journalism
Sunil Kumar Verma's foray into journalism began with a deep-seated passion for accurate and impactful storytelling. He initiated his career by establishing a news publication that was delivered to households at the break of dawn, embodying his commitment to delivering information when it mattered most. His dedication to authentic reporting soon earned him recognition and paved the way for higher responsibilities within the field.
In 2018, Sonu took a monumental step by assuming the role of Editor-in-Chief at India24x7 Live TV. Under his visionary leadership, the channel blossomed into a credible source of news, earning a reputation for unbiased reporting and comprehensive coverage of social issues.
A Force for Positive Change
Throughout his 12-year journey in journalism, Sonu's reporting has highlighted societal inequalities, human rights violations, and issues faced by marginalized communities. His tenacious approach has sparked conversations, resulting in policy changes and heightened awareness of critical subjects. Beyond newsrooms, he has actively engaged with nonprofit organizations, advocating for tangible improvements in education, healthcare, and community development.
Honoring Excellence
Dr. Vijayanand Saraswati, Vice-Chancellor of Mother Teresa University, praised Sonu's unwavering commitment to journalistic excellence and his endeavors in driving positive social change. The conferred honorary doctorate is a testament to Sonu's remarkable impact on journalism and society, recognizing his dedication to ethical reporting and meaningful contributions.
Sonu's Vision for the Future
Upon receiving the honorary doctorate, Sonu expressed his gratitude and shared his aspirations for the future. "This recognition strengthens my resolve to continue delivering impactful journalism. I believe in the power of media to shape perspectives and inspire positive actions," he remarked.
Empowering Through Information
Sunil Kumar Verma's legacy extends beyond his journalistic prowess. He has harnessed the power of media to empower individuals with knowledge and awareness, fostering a more informed and engaged society. His commitment to ethical reporting has earned him the trust of the public and established him as an influential figure in the industry.
In recognition of his relentless pursuit of journalism excellence and his profound impact on society, the honorary doctorate bestowed by Mother Teresa University underscores Sunil Kumar Verma 'Sonu' as a beacon of integrity and change in the world of media.
Click here for the latest news from Bollywood, Hollywood, South Film Industry, Bhojpuri and TV world… Click here to join the Facebook Page, Twitter Page, YouTube page and Instagram of Bollywood Mascot !