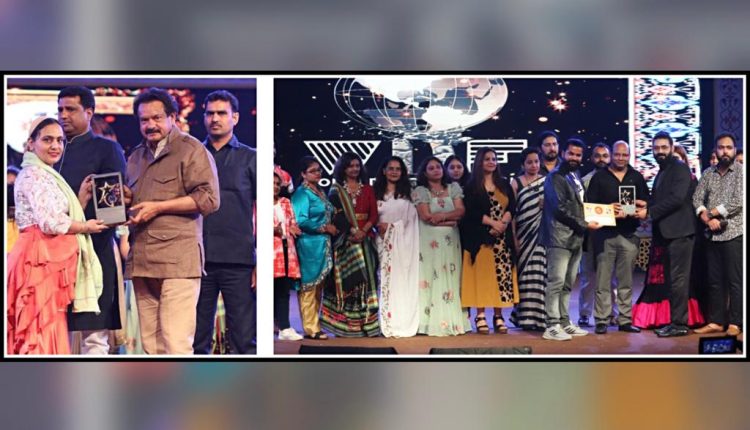 Kulpreet Kaur appointed as a member of the World Designing Forum & she is ready to share the stage with Sabyasachi Satapathy and others in the World Designing Conclave in Goa
Kulpreet Kaur, the owner of the brand 'Mankush', has been appointed as a member of the esteemed World Designing Forum (WDF), an international organization that promotes innovation and creativity in the field of design. With her unique and individualistic approach to fashion, Kulpreet Kaur has made a name for herself in the industry over the past 10 years, following a real trend of individuality.
Her designs, made with handcrafted garments using traditional handmade fabrics, caught the attention of fashion experts and enthusiasts alike. She recently received words of appreciation from Cabinet Minister of Law and Justice S.P Baghel as she showcased her collection of handmade fabric garments at Taj Mahotsav on the theme of 'Taj', representing the rich cultural heritage of India through her designs.
her dedication to preserving traditional techniques and promoting handmade fabrics, particularly 'Khadi', has been a driving force in her work. She has participated in various exhibitions and events, showcasing her passion for using traditional fabrics and rekindling the lost traditions of Indian textiles. Her style statements are deeply rooted in her Punjabi culture, and she annually organizes the 'Teej Fest' to celebrate and showcase the versatile heritage of Punjab.
Her exceptional work in the fashion industry and her commitment to promoting traditional techniques and fabrics have earned her a well-deserved place as a member of the World Designing Forum. Her passion for using handmade fabrics and her unique vision align with the ethos of the WDF, and her appointment as a member is a testament to her talent and dedication.
The World Designing Conclave, organized by the World Designing Forum, is a prestigious event that brings together design experts from around the world to share their insights and ideas on various aspects of design. Kulpreet Kaur will be sharing the stage with renowned designers such as Sabyasachi Satapathy and others at the World Designing Conclave in Goa. Her presence at the event is eagerly anticipated, and she is expected to bring her innovative and unique perspective to the discussions on design and fashion. CEO Ankush Anami welcomes her to contribute for society.
Kulpreet Kaur's appointment as a member of the World Designing Forum is a significant achievement and a recognition of her talent, creativity, and dedication to the fashion industry. Her passion for using traditional techniques and fabrics, her commitment to preserving cultural heritage, and her unique style statements have set her apart in the fashion world. With her involvement in the World Designing Forum and her upcoming participation in the World Designing Conclave, Kulpreet Kaur is set to further establish herself as a prominent figure in the global fashion industry.
Click here for the latest news from Bollywood, Hollywood, South Film Industry, Bhojpuri and TV world… Click here to join the Facebook Page, Twitter Page, YouTube page and Instagram of Bollywood Mascot !