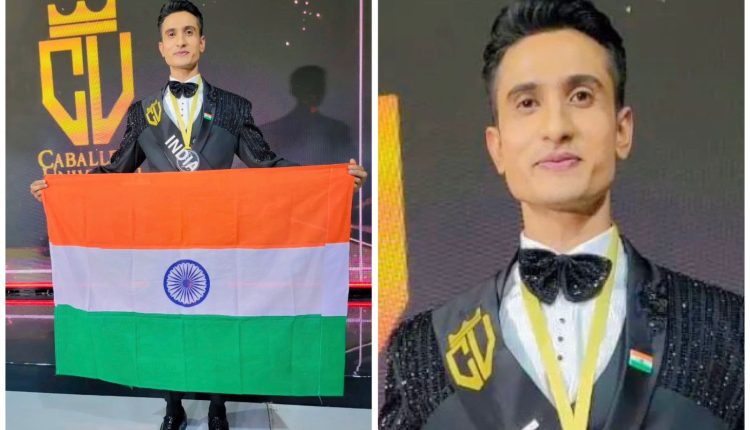 Kramik Yadav 's journey from being a successful entrepreneur to becoming an international award-winning model
Kramik Yadav, the businessman based in Gujarat, won two international awards for India last year and became an overnight sensation in the Indian pageant industry. His journey began after he won Mr. India 2022 title in Chennai and represented India at the biggest international modelling competition of Latin America – Caballero Universal. He is one of the very few men in the world that have been part of two of the biggest competitions in the world – Rubaru Mr. India and Caballero Universal. Along with winning the title of Mr. India 2022, he was also conferred with the Best in Talent award at the 2022 Rubaru Mr. India competition.
This Ahmedabad-based multitalented gentleman has a very long array of accomplishments following him. Kramik Yadav is one of the most successful entrepreneurs in the fashion world and possesses expertise in all types of Gujarati dance forms. He is also a dance choreographer and model. After winning the title of Mr. India 2022, he was chosen to represent India at the biggest international competition based in Latin America, Caballero Universal. It was a matter of huge pride for India and Asia as it was the very first time an Asian candidate qualified for this prestigious international competition; before Kramik no Asian candidate ever got qualified for this event. In the month of December (2022), he travelled to the Latin American nation of Venezuela and became the very first Mr. India winner to visit the said nation. The special fact about Venezuela is that, this country is regarded as the pageant capital of the world. Venezuela is the most respected country in the world of pageants and has produced the maximum of beauty pageant winners in the world.
During the international competition in Venezuela, Kramik Yadav was a major crowd favorite candidate. Kramik Yadav mainly grabbed attention for his very humble personality and very exquisite and spectacular outfits. His sense of style and fashion was greatly appreciated by everyone and for the very same reason, he won Mister Elegance 2022 special award at the said international competition. Again, it was for the very first time that a Mr. India won this award at the international level. On December 1, 2022, Kramik Yadav created history once again when he won the 2nd runner up title at the Caballero Universal competition. It was for the very first time that an Asian delegate entered the competition's top placers league.
Kramik Yadav created such big records in the Indian pageant industry that it will be very hard for any other Mr. India winner to repeat these things. From being a very successful entrepreneur, to pursuing his passion for dance and choreography to becoming an international award-winning model, his journey was full of new achievements at every stage. It also sends out a strong message that dreams do come true, if you have the courage to chase them and turn them into reality.
Click here for the latest news from Bollywood, Hollywood, South Film Industry, Bhojpuri and TV world… Click here to join the Facebook Page, Twitter Page, YouTube page and Instagram of Bollywood Mascot !