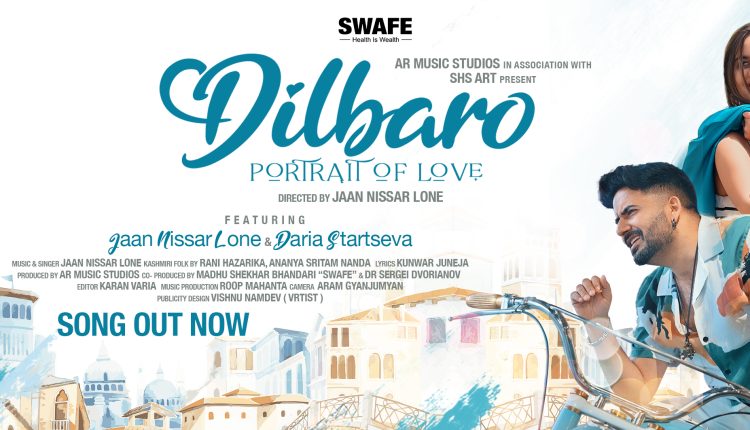 Jaan Nissar Lone: Taking Authentic Indian Melody Global with Dilbaro – Portrait of Love
Renowned music director Jaan Nissar Lone, hailing from Kashmir, is making waves in Bollywood and beyond. Recently honored as the "Ambassador of Peace" by the Universal Peace Federation and awarded a doctorate at the Russian African Forum by the International Eurasian University, Lone is a force to be reckoned with. His latest creation, "Dilbaro – Portrait of Love," a cross-cultural masterpiece produced by AR Music Studios in collaboration with SWAFE, showcases his remarkable talent.
The song, directed by Lone himself, showcases a captivating blend of Indian, Armenian, and Russian influences. "Dilbaro – Portrait of Love" paints a universal picture of love and emotion, transcending geographical and cultural boundaries. With Lone's soulful voice and the contributions of folk sensations Rani Hazarika and Ananya Sritam Nanda, the song's melodies touch the hearts of listeners across the globe.
The collaboration's creative team, including Roberto Smirnov and Roop Mahanta, has crafted a visually stunning experience. The lush landscapes of Armenia provide a backdrop that symbolizes the unity music and love can bring. The co-production by SWAFE and the involvement of Dr. Sergei Dvorianov from Moscow further emphasize the song's global reach and impact.
As "Dilbaro – Portrait of Love" gains worldwide attention, it's clear that Jaan Nissar Lone's creative vision has set new standards for artistic expression. This collaboration serves as a testament to the power of music and love to unite humanity, transcending borders and languages. Experience the magic and join the movement as this cross-cultural journey touches the hearts of millions.
Click here for the latest news from Bollywood, Hollywood, South Film Industry, Bhojpuri and TV world… Click here to join the Facebook Page, Twitter Page, YouTube page and Instagram of Bollywood Mascot !