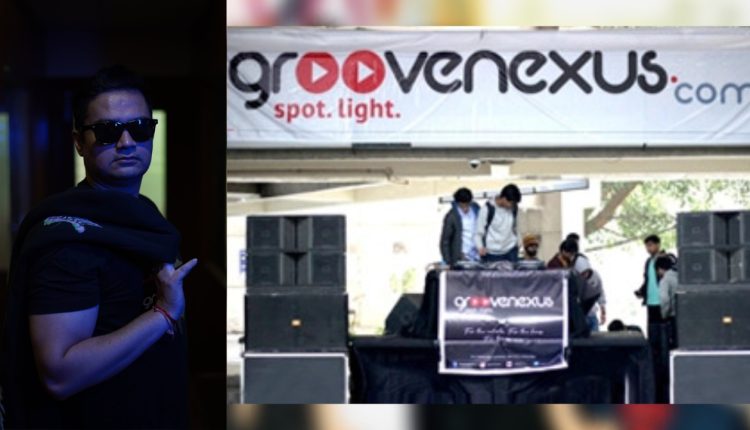 Dj Himanshu Mishra's Groovenexus: An Amazing Digital Platform for Music Artists
Groovenexus is an online platform for all musicians to network and develop their individual brands in the music industry. The 2019 digital platform was founded by music enthusiasts Himanshu Mishra, Nishant Mishra, and Prabhanjan Deshpande. This online music community welcomes all types of musicians, including singers, rappers, instrumentalists, DJs, and bands. New musicians, each with their distinct style and set of skills, gain popularity each year.
As a platform, Groovenexus helps up-and-coming musicians build their fan bases and careers. The community has gained popularity among music fans, and people are motivating the musicians to advance their careers. Currently, Groovenexus is working with 25+ promising young musicians from all over the country that are passionate about making music. The key personalities among them are: King AP, Mukul Kumar, Traxeon, Aditya, Harshita Barnwal, Rohit Pandey, and Swattrex.
Himanshu Mishra, the co-founder, commented on the launch of Groovenexus on February 17th, 2019: "Being an alumnus, and having been the Central Counselor at DCE, I always felt the need to create a platform that connects everyone through music. Launching GrooveNexus at the same place and event, and that too around Quintino's grooving EDM music, was the perfect thing to do."
The viral hit "Insane" from King AP's "2K16" debut album has gathered over a million views and won fans over with its catchy rhythms, heartwarming lyrics, and talented cast. Great stories and melodies have continually been created by the team of guitarist Traxeon and lyricist King AP. Another great tune is EK Shaam. Valentine's Day is coming up, so if you're looking for a particular song to share with your special someone, think about this one, which was written by King AP, Harshita Baranwal, and the Traxeon team.
The most recent song by DJ Rawking, the official DJ of Mika Singh, is "Teekhi Teekhi," a song he released on Groovenexus Records to set a fire throughout this winter. "Chupke se," "Teri Kami," and "Insane" have all received over one million views, and the total is constantly rising. With the help of Groovenexus Entertainment and Media Services Pvt. Ltd., many of these gifted artists are able to work on their dreams.
The digital audience can enjoy listening to original and exclusive songs from artists across genres thanks to their music promotion platform. The official website provides information for the general audience about song releases, music artists, career advice, and song reviews. They also share music-related news, stories, and information on their many social media sites. Himanshu Mishra believes that since his parents didn't encourage him to pursue music as a career, no other child should ever experience the same situation.
We must make an honest effort to pursue our passions because our efficacy and energy are different at that time. "If you do what you love, you'll never work a day in your life," is a beautiful quote from Marc Anthony. After working in IT for 17 years, he decided to pursue his true calling in 2019 and created a fantastic digital platform for musicians all around the country to share their talents.
GrooveNexus is a media and entertainment company. DJ Himanshu Mishra founded it on Mar 1, 2019, in Delhi, India. It deals in music promotion and distribution services. GrooveNexus is the first choice for artists and music producers to distribute their music globally.
Click here for the latest news from Bollywood, Hollywood, South Film Industry, Bhojpuri and TV world… Click here to join the Facebook Page, Twitter Page, YouTube page, and Instagram of Bollywood Mascot!