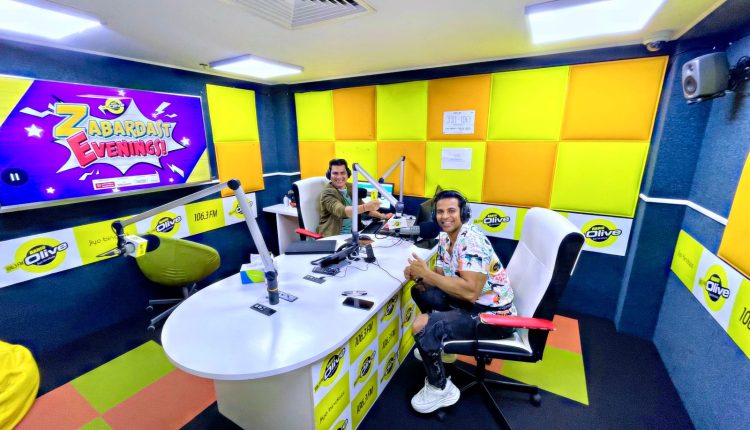 DJ DYNAMIKE Exclusive Interview with Qatar's No – 1, Radio Station Olive 106.3 FM with RJ Neerajj!
Richard Dimonti aka DJ DYNAMIKE he's one name who is known nationally and internationally, he is born in India's well know oxford of the east Pune and marks his birthday on 30th Jan 1994, at the age of 21 he gained immense interest in DJ'ing and music production and that's where his journey began after years of hard work and dedication he landed in the hearts of Qatar fans his fans there are crazy about his music and the kind of energy he gives to the crowd and he definitely lives up to their expectations always when he travels there for his exclusive gigs!
In our Exclusive Interview with Qatar's No. 1 Radio station 106.3 FM with RJ Neerajj and DJ DYNAMIKE where he spills the beans on how he got his name, his love for Qatar and much more!
To commence I am really glad and thankful to Olive Radio 106.3 FM and you RJ Neerajj for having me here. During the initial days of my career I was really contemplating with names, I also used to watch a lot of documentaries by David Guetta and Skrillex where I got to know that your real name and stage name need to be different and catchy and this may sound weird to you but with all this going on I one day got a dream from where I got this name from I guess that's what is called manifesting your dreams.
And if I talk about gigs, Qatar is my most favourite country to play in because people here are really acceptable of my work and my style of music that I play and their immense love towards me makes me want to work towards my fullest potential and coming here doesn't feel away from home, It feels like Qatar is my second home, although this is my 3rd time performing in Qatar, I never want to stop jamming with people here. And I hope fans here always give me the same kind of love whenever I visit here.
I really want to say this to the aspiring DJ's that DJ'ing is not just done for the sake of getting famous, its controlling so many hearts in just like a blink of an eye and you absolutely need to be passionate about doing this, I feel as a DJ you need to understand your crowd and what they want to listen that would make them forget about their worries and just dance to your tunes and that's what I always try, follow and preach.
And to sum it all up I am very grateful for everything that I have achieved and still I am aiming for the sky with my feet and mind grounded. Once again thank you Neerajj and Radio Olive and cheers to Qatar and my fans here!
Click here for the latest news from Bollywood, Hollywood, South Film Industry, Bhojpuri and TV world… Click here to join the Facebook Page, Twitter Page, YouTube page and Instagram of Bollywood Mascot !