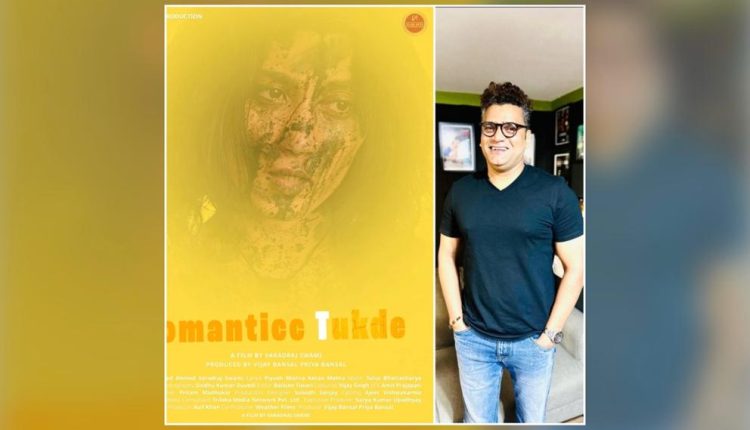 Asif Khan Co-produce 'Romanticc Tukde' directed by Varadraj Swami
Asif Khan is a prolific film producer who has an experience of working in the entertainment industry for more than two decades now. The founder and Director of Rhone Entertainment Pvt. Ltd, Asif Khan has built his reputation as a visionary filmmaker who always backs movies which are high on concept and content and which truly have potential to impact the viewers in a big way.
Asif Khan always believed that cinema is a kind of visual medium whose purpose is not only to entertain the audiences but it also needs to give kind of messages. 'Romanticc Tukde' is a high concept film which has been presented in such an interesting way that viewers will be hooked till the end of the film. Asif Khan has been working in the industry as a co-producer, associate producer, creative producer also associated with Maya Digital Studios Private Limited as senior VP Outsource and Future Works as well as Martin Production in UK as a post producer.
Currently, Asif Khan is very excited about his upcoming film 'Romanticc Tukde'. The story of 'Romanticc Tukde' belongs to an era when movie tickets were sold in black and people would desperately want to watch films in theatres, back then, cinema used to be a family experience. The film traces the amazing journey of cinema halls from the era of 90s and it also shows the dark chapter of the industry when one by one theatres started getting shut.
The film stars Pankaj Berry, Nikunj Malik, Amiya Amit Kashyap, Bhakti Punjani, Brajesh Jha, Vivekanand Jha and Dhama Verma, in prominent roles. The film has been directed by Varadraj Swami and produced by Vijay Bansal, Priya Bansal. Shahzad Ahmed is the script writer of the film, the melodious music of film has been given by Tutul Bhattacharya and Piyush Mishra and Ketan Mehta are the lyricists of the film.
Talking about the film co-producer Asif Khan said, "This film will remind us about the popular musical films of the nineties and various movies of that era. Romanticc Tukde should be considered as the documentation of our cinematic history. Director Varadraj Swami and writer Shahzad Ahmed truly understand the craft of filmmaking and have totally dedicated themselves towards filmmaking. I am really proud to co-produce "Romanticc Tukde".
Notably, 'Romanticc Tukde' is hard hitting as well as very entertaining. The film and the script doesn't make you feel that it requires any popular artists. it's truly amazing screenplay the film not only entertains but it also gives very valuable lessons to the audiences. It will be soon released in theatres across the country and the release date of the film will be announced soon.
According to the director Varadraj Swami, "Every time I make a film, I make sure that it provides unique experiences to the audiences. My films not only give important messages but it equally entertains the people. 'Romanticc Tukde' is also one such film. It's a cross between art and commercial cinema. I am pretty sure that the cinematic experience of watching 'Romanticc Tukde' will be much appreciated by the audiences."
Click here for the latest news from Bollywood, Hollywood, South Film Industry, Bhojpuri and TV world… Click here to join the Facebook Page, Twitter Page, YouTube page and Instagram of Bollywood Mascot !