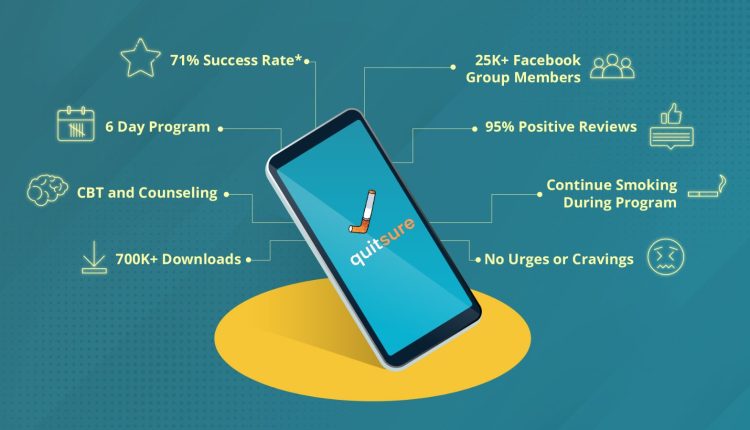 Are apps like QuitSure helpful in quitting smoking?
QuitSure : Addiction, particularly nicotine and cigarette smoking, remains a major concern in today's society. According to the World Health Organization (2020), approximately 22.3% of the world's population is affected by smoking. Although up to 70% of smokers express a desire to quit, research shows that only 6% are successful in doing so.(1) Individuals often make multiple attempts to quit, with the odds of failure being high.
There are many ways to quit smoking out there, including Cold Turkey, Will Power, Nicotine Replacement Therapy (such as nicotine gums), and addiction hotlines. However, these approaches have shown success rates of less than 8%. (2) Studies have demonstrated that psychological interventions, such as Cognitive Behavioral Therapy (with a success rate of 50-55%) (3), Psychological Consultations (with a 37% success rate) (4), and Hypnosis (with a 14-25% success rate) (5) are more effective.
Quit smoking apps have been gaining popularity in recent years, and for good reason. These apps can provide a range of features and tools that can help individuals quit smoking and stay smoke-free. Quit smoking apps can track progress, provide motivation and encouragement, offer tips and resources, illustrate the benefits of quitting smoking, connect users with support communities, and personalize the quit smoking journey for each user.
The ability to track progress and receive real-time feedback can be especially helpful for individuals trying to quit smoking. Additionally, these apps can provide a sense of community and support during a challenging time, helping users feel less isolated in their journey to quit smoking. Research suggests that a quit smoking app can be effective in supporting smokers in their efforts to quit. Overall, quit smoking apps can be a valuable tool for anyone trying to quit smoking and improve their health and well-being.
QuitSure, a unique quit smoking app, is rapidly gaining global popularity, making it the fastest-growing app of its kind in the world. With its unique approach, the app functions as a pocket psychologist, ready to provide support and guidance whenever and wherever needed. Developed by a Stanford University alumna, QuitSure utilizes a 6-day program that has shown exceptional success, boasting a 71% success rate over a six-month research study conducted in over 150+ countries. The app features a range of daily videos, thinking exercises, and mindfulness techniques that incorporate the latest scientific advancements in cognitive behavioral therapy, hypnosis, and therapy to effectively rewire the mindset of smokers. With its impressive track record, QuitSure is working towards revolutionizing the way smokers quit for good.
Why is psychology the right tool to help you quit smoking?
"If you want to transform your life, start with reprogramming your mind", is the motto based on which QuitSure was created.
Nicotine is a powerful chemical that quickly becomes addictive, leading smokers to crave more as their levels of the substance drop. However, smoking addiction is not only a physical phenomenon, but also a mental one. Cigarettes often become a trusted companion for smokers, making it difficult for them to quit. Addressing the mental component of addiction requires psychological conditioning to change thought patterns and attitudes towards smoking.
QuitSure, an innovative smoking cessation app, takes a unique approach to help smokers overcome their addiction. Rather than relying on fear tactics or willpower, the app uses positive psychology to rewire the brain's response to smoking. By removing cravings and fostering a dislike for cigarettes, QuitSure leads to lasting results without unpleasant side effects.
The app offers access to expert coaches and a supportive community of over 25,000 people, making it easier for users to stay motivated throughout their quit smoking journey. QuitSure also allows users to continue smoking during the program until they are ready to quit, avoiding the pressure and guilt tactics used by other methods.
User reviews praise QuitSure for its effectiveness in reducing withdrawal symptoms and providing a positive, empowering experience. QuitSure is the ideal choice for smokers looking to quit, offering a comprehensive and accessible approach to smoking cessation.
The QuitSure program is a cost-effective solution for individuals looking to quit smoking, with a price point lower than a single consultation with a psychologist. Positive user reviews further validate the program's efficiency, with Nigel sharing his success story after smoking for 40 years and now being smoke-free for 12 months.
"A lot of really useful info, and certainly a huge part of my quitting and staying quit. I'd been smoking for 40 years and had tried and failed a heap of times, and I'm now 12 months smoke-free."
As we integrate mobile-based apps into our daily lives for various purposes such as listening to music, playing games, and ordering food, why not also utilize a quit smoking app to improve our health and lifestyle? Quit Smoking Apps are readily available to help individuals overcome cigarette addiction.
This particular app is unique in that it utilizes psychological methods to help smokers eliminate their desire to smoke, even when faced with temptation. Those seeking a smoke-free life can begin their journey with QuitSure and experience a remarkable transformation. Don't wait any longer, take advantage of this opportunity and equip yourself with the tools needed to succeed in your journey towards quitting smoking.
Click here for the latest news from Bollywood, Hollywood, South Film Industry, Bhojpuri and TV world… Click here to join the Facebook Page, Twitter Page, YouTube page and Instagram of Bollywood Mascot !