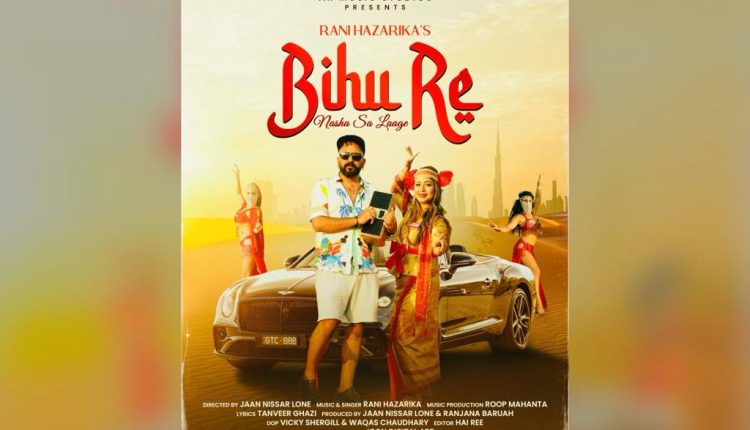 AR Music Studios Unveils 'BIHU RE': A Fusion of Assamese Folk and Bollywood on a Global Stage
In a groundbreaking move, Mumbai-based AR Music Studios, also known as ARMS Record Label, is all set to redefine musical boundaries with their latest release, 'BIHU RE.' This exceptional single not only brings together Semi-Assamese Folk and Bollywood rhythms but also marks an extraordinary international collaboration destined to captivate audiences worldwide.
At the forefront of this musical marvel is the revered Dadasaheb Phalke Award recipient, RANI HAZARIKA, whose mesmerizing vocals lead the charge in 'BIHU RE.' The very title reverberates with vitality, promising an auditory experience that intricately weaves the cultural richness of Assamese folk with the allure of Bollywood.
What truly distinguishes this project is not just the music but the visual spectacle that accompanies it. The music video, set against the vibrant backdrop of Dubai's streets, is an opulent display adorned with lavish props. Adding an international flavor are the rhythmic performances by Russian dancers, seamlessly synchronized with the beats of both BIHU and Bollywood.
AR Music Studios, the driving force behind this pioneering endeavor, has co-produced 'BIHU RE' alongside Jaan Nissar Lone and Ranjana Baruah from KAÉMAT COMICS. More than just a musical collaboration, this venture is an epic narrative aimed at showcasing Assamese folk on the global stage through the universal language of Bollywood.
As anticipation builds for the release of 'BIHU RE,' it stands as a testament to the influential power of music, transcending borders, cultures, and genres. Audiences worldwide are in for an unprecedented musical journey, as AR Music Studios brings the essence of Assamese folk to a global audience, crafting harmonies that resonate across continents.
With the promise of a unique blend of cultures and sounds, 'BIHU RE' is poised to leave an indelible mark on the global music scene, breaking barriers and fostering a deeper appreciation for diverse musical traditions.
Click here for the latest news from Bollywood, Hollywood, South Film Industry, Bhojpuri and TV world… Click here to join the Facebook Page, Twitter Page, YouTube page and Instagram of Bollywood Mascot !