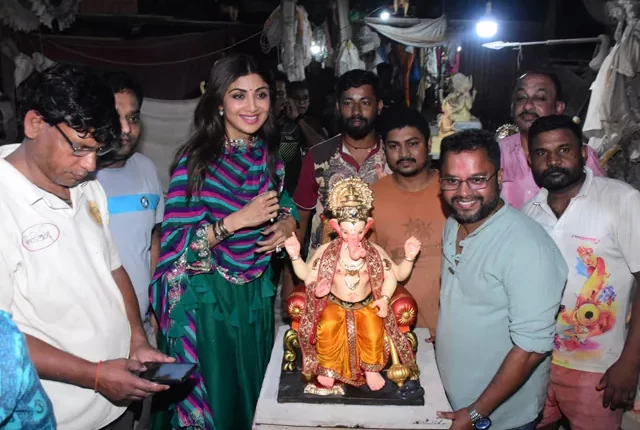 Shilpa Shetty and Raj Kundra Welcome Lord Ganesha Home for Ganesh Chaturthi 2023
Ganesh Chaturthi, one of India's most cherished festivals, is here, and it's not just a celebration for ordinary folks but also for our beloved Bollywood stars. Every year, the country comes alive with the vibrant festivities that last for ten days, as devotees welcome Lord Ganesha into their homes. The grand immersion procession, or "Ganpati Visarjan," marks the culmination of this celebration on September 29th. Amidst this joyous occasion, we see the likes of Shilpa Shetty, a renowned actress, and her husband Raj Kundra, embracing the spirit of Ganesh Chaturthi by bringing Lord Ganesha into their home.
Ganesh Chaturthi, also known as Vinayaka Chaturthi, commences on September 19th, and for the following ten days, Lord Ganesha graces the homes of his devotees. Shilpa Shetty, in keeping with tradition, brings an eco-friendly idol of Lord Ganesha to her residence with great pomp and devotion. The installation ceremony takes place on the morning of Chaturthi.
This year, Shilpa Shetty, along with her husband Raj Kundra, arrived in Mumbai to procure the idol of Lord Ganesha. The images and videos of their visit have gone viral on social media. It's interesting to note that Raj Kundra, during this visit, tried to maintain a low profile, hiding his face from the media's cameras.
Shilpa Shetty is known to bring Lord Ganesha's idol from the renowned Lalbaugcha Raja in Mumbai. This year marks her 13th year of continuing this heartwarming tradition. During these 13 years, Shilpa Shetty has welcomed Lord Ganesha into her home for a duration of one and a half to three days, depending on her family's schedule. On the day of immersion, the Shetty-Kundra family comes together for a special puja, offering various dishes and sweets as part of their devotion.
Ganesh Chaturthi holds a special place in Shilpa Shetty's heart, and she has celebrated this festival with her family since 2010. Reportedly, it all began when she made a vow to bring Lord Ganesha home every Chaturthi after her heartfelt prayer was answered. Since then, this tradition has continued to bring joy and spirituality to their household.
In the midst of all the glamour and glitz, it's heartening to see Bollywood stars like Shilpa Shetty and Raj Kundra upholding these traditions and celebrating the essence of Ganesh Chaturthi with the same enthusiasm as millions of devotees across the nation. As the festivities continue, the spirit of unity, devotion, and celebration shines brightly, bringing people from all walks of life together to welcome Lord Ganesha into their hearts and homes.
Click here for the latest news from Bollywood, Hollywood, South Film Industry, Bhojpuri and TV world… Click here to join the Facebook Page, Twitter Page, YouTube page and Instagram of Bollywood Mascot !