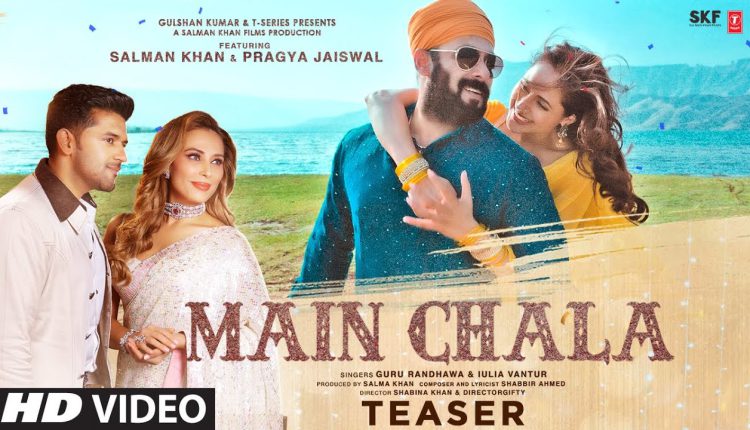 Salman Khan and Guru Randhawa song: 'Main Chala' features Iulia Vantur and…
On Friday, January 21, Salman Khan posted a teaser for his music video 'Main Chala' on his social media account. In the video, he is seen with actress Pragya Jaiswal. Iulia Vantur and Guru Randhawa have teamed up to sing this love song by Salman Khan. They'll appear in the video as well.
The music video titled 'Main Chala,' which was co-produced by 'SK Films' and 'T-Series,' will be released tomorrow, January 22. Salman is seen flaunting various styles in the 20-second video of the teaser of the song.
In the teaser, Salman Khan can be seen with long hair in one part of the video and wearing a turban in the other. Pragya is a well-known Telugu actress who looks stunning in a saree beside Bollywood star Salman Khan.
'Lose yourself in the romantic tunes of #MainChala. Teaser out now. Song releasing on 22nd January. Tune in now!,' Salman wrote in the caption of the teaser. The teaser for the film has been released. On January 22, this song will be released. This teaser was published by Bhaijaan around 2 hours ago, and it has already received over 16 lakh views.
Salman's followers are gushing about his song and appearance. All of the celebrities, like the fans, are expressing their love by commenting. Sunil Grover, an actor, also posted a heart emoji. 'Main Chala' was composed and written by Shabbir Ahmed. Shabina Khan and Gifty are in charge of the direction. Salman Khan and Iulia Vantur, an actress and model, are rumoured to be dating. None of them, however, has refuted or verified this.