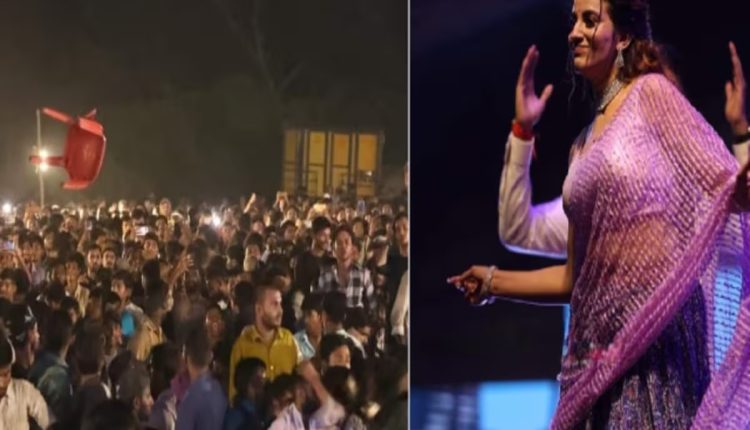 Commotion Erupts During Akshara Singh and Honey Singh's Event in Uttar Pradesh
Akshara Singh and Honey Singh Event: In an unexpected turn of events, chaos broke out during a public event featuring popular Bhojpuri actress Akshara Singh in Jaunpur district, Uttar Pradesh. The situation escalated rapidly, catching both the authorities and the organizers off guard, as they struggled to control the unrest.
The event was part of a three-day Ganesh Utsav celebration meticulously organized by IAS officer Abhishek Singh. Held at the TD College Ground, the gathering drew a massive crowd eager to participate in the festivities. Stringent security measures had been put in place to manage the large turnout.
Akshara Singh, a well-known name in Bhojpuri cinema, was invited to perform at the event. Her initial performances, including two songs, went off smoothly. However, when she began singing her third song, "Lehenga Lucknowwa," the situation took an unexpected turn. The song's lyrics appeared to offend some members of the audience, leading to a sudden and unruly outburst. Chairs were thrown, and the atmosphere turned chaotic.
Despite the presence of over 300 security personnel, the crowd's uproar quickly spiraled out of control. Akshara Singh and other performers had to make a hurried exit from the venue to ensure their safety.
The root cause of the disturbance seems to be objections raised by certain attendees regarding the explicit nature of the songs performed. They believed that such songs were not appropriate for a Ganesh Utsav celebration and vehemently protested against their inclusion.
During the turmoil, several individuals reportedly sustained injuries, prompting the police to step in and restore order. This incident highlights the importance of meticulous event planning and the need to maintain decorum and safety at public gatherings, particularly during festive occasions.
As investigations into the incident continue, it underscores the significance of comprehensive security protocols and the importance of ensuring that public events proceed smoothly without disruptions or untoward incidents.
Click here for the latest news from Bollywood, Hollywood, South Film Industry, Bhojpuri and TV world… Click here to join the Facebook Page, Twitter Page, YouTube page and Instagram of Bollywood Mascot !