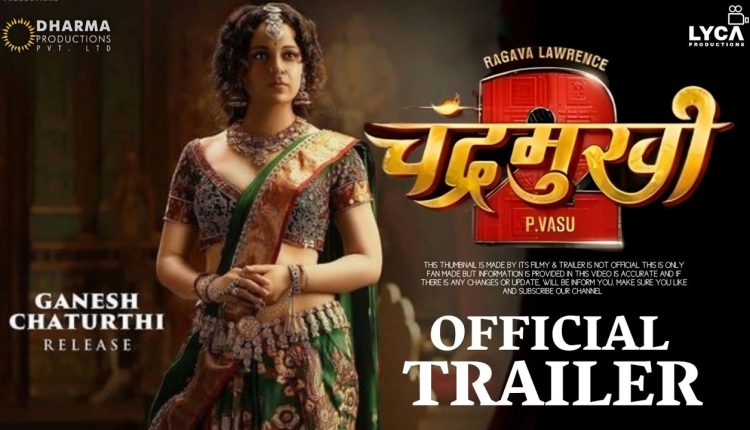 Chandramukhi 2 Hindi Trailer: Kangana Ranaut Spectacular Performance Leaves Fans Awestruck
Chandramukhi 2 Hindi Trailer: Bollywood's reigning queen, Kangana Ranaut, has once again proved her mettle in the world of acting. With each of her appearances, she has left audiences in awe of her talent. Now, Kangana is all set to captivate audiences once more with her upcoming film, Chandramukhi 2, and the recently released Hindi trailer has left fans buzzing with excitement.
The trailer launch event in Mumbai was nothing short of a grand spectacle, as fans eagerly awaited a glimpse of the film. Kangana Ranaut's dedication to her craft is evident in her role in Chandramukhi 2. The actress has not only honed her acting skills but also trained extensively in Indian classical dance to portray her character authentically. After watching the trailer, fans can hardly contain their anticipation for the film's release.
Fan Reactions to the Trailer
As soon as the Hindi trailer for Chandramukhi 2 was unveiled, fans flooded social media with their enthusiastic reactions. One user commented, 'Any horror film with Raghav is bound to be the best. Plus, Kangana's outstanding performance is sure to make it a hit.' Another fan wrote, "Wow, what an amazing trailer! I can't wait!"
Chandramukhi 2 Release Date
Kangana Ranaut's horror film, Chandramukhi 2, is all set to hit the silver screen on September 28, 2023. Fans are eagerly looking forward to witnessing Kangana's unique portrayal in this film. It's worth noting that Chandramukhi 2 will be going head-to-head with "Fukrey 3," which is also slated for release on the same date. It will be intriguing to see which film captures the audience's hearts.
Chandramukhi 2 Hindi Trailer 
Kangana Ranaut's versatility as an actress and her commitment to her roles continue to make her one of Bollywood's most celebrated talents. As the release date approaches, fans can hardly contain their excitement to see Kangana in this new avatar in Chandramukhi 2. The anticipation is running high, and September 28th can't come soon enough for moviegoers who are eager to witness the magic she will undoubtedly bring to the screen.
Click here for the latest news from Bollywood, Hollywood, South Film Industry, Bhojpuri and TV world… Click here to join the Facebook Page, Twitter Page, YouTube page and Instagram of Bollywood Mascot !