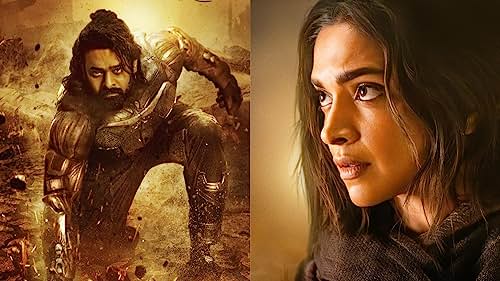 BOLLYWOOD NEWS: Highly Anticipated Film Project K Unveils Its Spectacular Teaser
Bolllywood News: Finally, the much-awaited teaser of the most anticipated film, 'Project K,' has been released, leaving the audience exhilarated. Fans have been eagerly waiting for a glimpse of this movie for a long time, and the recently unveiled teaser has lived up to the hype. Adding to the excitement, the real title of the film has also been revealed.
Renowned director S.S. Rajamouli took to his Twitter handle to commend the director and makers of 'Project K.' He praised their efforts in creating an authentic futuristic film, a task that is undoubtedly challenging and well accomplished by the team. The teaser has already captivated audiences, and even Rajamouli himself couldn't help but express his admiration, particularly for the charismatic appearances of the lead actors.
The film stars the dynamic duo of Prabhas and Deepika Padukone in prominent roles, and their on-screen chemistry is anticipated to be a major highlight, given their previous successful collaboration in the blockbuster 'Baahubali' series. The intriguing bond between Rajamouli and Prabhas is evident, further elevating the anticipation for 'Project K.'
So, what exactly is the full name of 'Project K'? On Thursday, the makers unveiled not only the first glimpse but also the complete title of the movie, which is 'Kalki 2898 AD.' While the exact release date is yet to be announced, the makers have hinted that the film is scheduled to hit the theaters in 2024.
As for the teaser, it has managed to create a massive buzz in the industry, with fans already declaring it a blockbuster. 'Project K' is an action-packed sci-fi thriller that showcases Prabhas once again in an intense role. The teaser provides glimpses of Prabhas, Deepika Padukone, and Amitabh Bachchan in their intriguing avatars, leaving the audience yearning for more. Furthermore, rumors suggest that the role of the antagonist will be portrayed by none other than the legendary Kamal Haasan, adding an extra layer of excitement to the project.
With its impressive star cast, talented director, and promising teaser, 'Project K' has undoubtedly become one of the most anticipated films of the coming year. As fans eagerly await the release date announcement, the film's team continues to work hard to deliver a cinematic experience like no other.
Click here for the latest news from Bollywood, Hollywood, South Film Industry, Bhojpuri and TV world… Click here to join the Facebook Page, Twitter Page, YouTube page and Instagram of Bollywood Mascot !