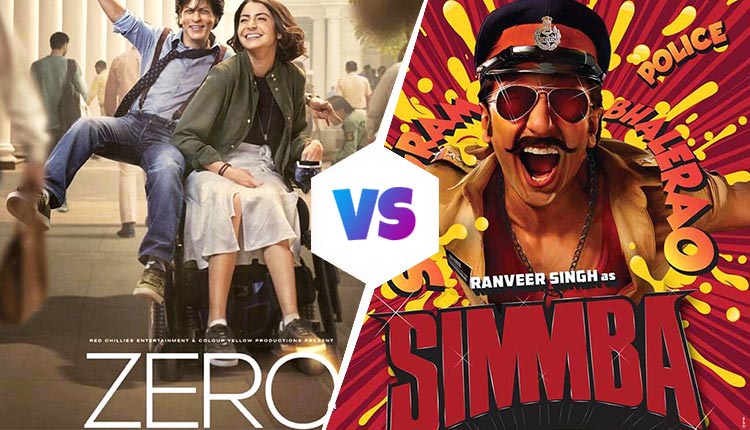 Zero vs Simmba: The Battle For screens Started
Zero vs Simmba: Shah Rukh Khan's Zero is all set to release on 21st December and after a week, Ranveer Singh starrer Simmba knocks the door at the big screens. However, before the release, the battle for screens has already started between the two big-budget films. According to the entertainment news portal, Bollywood Hungama, the makers of Zero and Simmba are at loggerheads with each other over the release size of the two films.
If sources are to be believed, Zero actor Shah Rukh Khan signed a two-week contract with single screen owners to ensure that his big-budget film retains a maximum number of screens in its second week. On other hands, Simmba producer and director, Karan Johar and Rohit Shetty got to know about SRK's tactic from the distribution circuit. And they two also started clubbing their film with Akshay Kumar and Rajinikanth 2.0. A source in the Bollywood Hungama report has been quoted as saying, "There have been multiple discussions between Shah Rukh Khan and Karan Johar (co-producer of Simmba), however, the two could not reach an impeccable solution. As Rohit Shetty was on Shah Rukh Khan's side during Chennai Express, he knows Khan's clout in the distribution circuit and doesn't want to be at receiving end this time around. People at Reliance Entertainment overheard Shetty saying, 'We should go ahead with a clash if team Zero resorts to tactics like signing contracts.' Shetty understands the business of Hindi films and doesn't want the initial business of his film to suffer due to a fractured release."
While Simmba makers are trying to assure that their film releases on at least 3000 screens, Zero makers are preparing to seal the two-week contract to make sure that the box office collection of their flick is not affected by the Simmba in its second week.
Shah Rukh Khan's Zero is slated to release on December 21, Simmba will release on December 28.