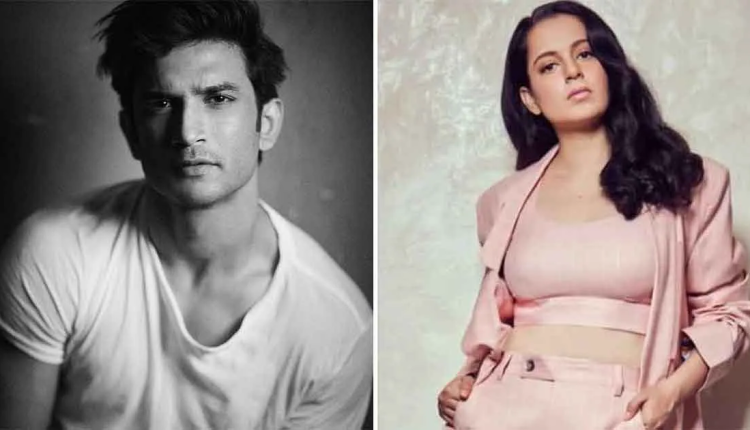 SSR Fans Slams Kangana Ranaut for her words on actor hanging himself
It is almost ten months when Sushant Singh Rajput passed away at his residence in Bandra apartment. We saw the Mumbai Police investigating the matter and then it went to the CBI but nothing much is coming out from them. Many felt that it was some foul play in the investigation and that someone is behind his death calling it to be a murder. Kangana has been vocal about this issue, however, the case went to different angles and twists.
Kangana has been speaking about the issue in many of her interviews, however, she even mentioned that Sushant was aware of many dirty secrets that led his life. However, as per one of her tweets, it was revealed that the lady was seen using words like Sushan hang himself. The fans of the late actor did not find it right for the late actors. This led the his fans to lose their temper and they slammed Kangana for using such language.
You need to check what the trolls have to say about it as under:
Short term memory loss – sushant singh rajput death is a planned murder !!! Didn't u say it ?? Date- 27 august 2019 @KanganaTeam ? What made u take this u turn ? https://t.co/z0wq6m9Pw0 pic.twitter.com/A4Hxx11YIK

— Smita GLK Parikh – SSR🦋💫🔱🔱 (@smitaparikh2) April 16, 2021
That's True Reality of Bollywood!!#BoycottBollywood pic.twitter.com/jsKe2v1HRu

— Corona Warrior (@corona_warrior) April 17, 2021
[email protected]'s Hypocrisy!!!
COMPLETE #BoycottBollywood

Odd Day👇 Even Day👇 pic.twitter.com/sLIZWOWNhE

— TheTaurus (@The___Taurus) April 16, 2021
This is what we call U turn!
Two completely opposite statements of urs @KanganaTeam
What made you change the statement?
Investigation is ongoing.
Stop this nuisance..
Take your words back immediately.. #BoycottBollywood
Period!

SSR Was Brutally Murdered pic.twitter.com/xjTRdeVK6P

— PIYALI 🇮🇳🚩 (@PiyaliBh) April 17, 2021
Stay tuned to know more about it and others only with us.