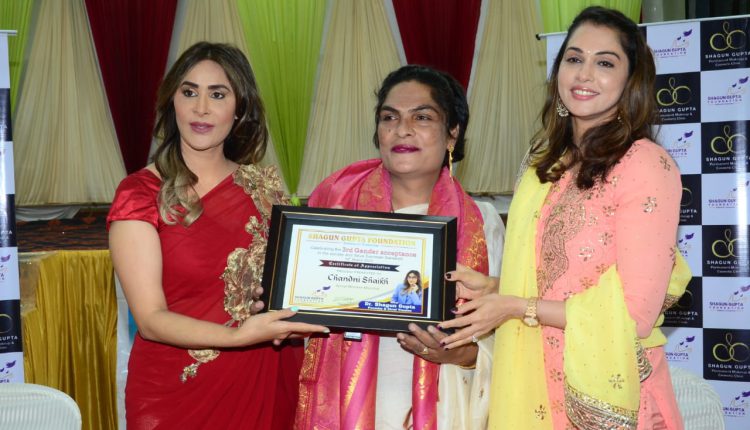 Founder of Shagun Gupta Foundation, Dr. Shagun Gupta distributes 100 sarees to the transgenders and members of The Kinnar Community
Dr. Shagun Gupta is a well-known cosmetics and permanent makeup expert who will now work for the cause of equal rights for the third gender. For many years, the Foundation has placed a great emphasis on fostering education, women's empowerment, and assisting cancer and acid attack survivors. It has already offered hope to thousands of individuals and is now tackling the task of working for the third gender, which is traditionally the most marginalised in society.
Dr. Gupta and her foundation distributed 100 sarees to the least fortunate during an occasion in Mumbai. "I've worked with a number of foundations that focus on women's empowerment, cancer survivors, and acid attacks, but this is the first time I'm collaborating with the Kinnar Community to help, and not just help, but to do everything in my power to ensure that the third gender has the freedom to live their lives as they wish." It breaks my heart that they are unable to live the life they wish; after all, we are all human beings.
"The foundation's efforts will be directed toward raising awareness of the third gender's fundamental right to equality. We will also provide necessary aid and support to causes related to the welfare of the third gender; raising awareness about permanent makeup needed six years of uninterrupted work and perseverance on my part. We have rekindled their lost hope, and this is what we hope to accomplish with our work for the third gender." Dr. Shagun Gupta concurred.
Dr. Shagun Gupta and her foundation, the Shagun Gupta Foundation, also intend to fully support 'The Rights of Transgender Persons Bill, 2014,' a contentious issue even today. However, she promises to make a difference in the lives of these transgender people by bringing this discussion and issue to light and providing them with the necessary support through her foundation.
Click here for the latest news from Bollywood, Hollywood, South Film Industry, Bhojpuri and TV world… Click here to join the Facebook Page, Twitter Page, YouTube page and Instagram of Bollywood Mascot !