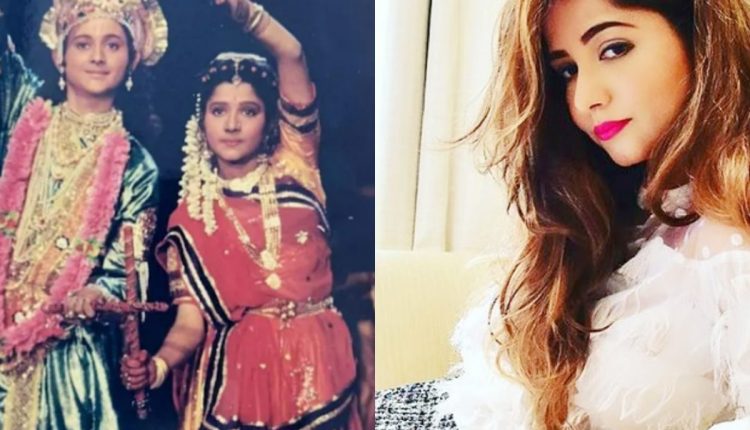 Radha from the Shri Krishna serial has changed so much that she will be difficult to identify
You've probably seen Ramanand Sagar's famous mythological production 'Shri Krishna.' Krishna was played by Swapnil Joshi, and Radha was played by Shweta Rastogi in this show. Both Radha and Krishna were popular characters on the show. Although the show was broadcast on television even during the Covid epidemic, the two were popular together, but did you know that Shweta Rastogi began her career in the industry as a child artist? Not only that, but she also appeared in a film alongside the industry's leading lady, Rekha.
About Shweta Rastogi
Shweta Rastogi was born in Meerut in 1973. Shweta currently resides in Mumbai with her husband, while her parents remain in Meerut. Shweta's father once stated in an interview that everyone at home affectionately refers to her as 'Cheena.' Shweta began working in TV serials and films at the age of four. Shweta has appeared in dozens of films from the 1990s, playing the daughter of many famous people. Shweta made her film debut with Rekha's film 'Khoon Bhari Maang' in 1988.
This one is close to my heart💝 playing #radharani was a #blessing#shrikrishna #sagarartsproductions #Divine #thankugod🙏 pic.twitter.com/sxon353ZRu

— Shweta Rastogi Chaudhary (@ShwetaRastogii) June 13, 2020
Shweta played the role of Rekha's daughter in a film
Shweta played Rekha's daughter in the film. Shweta was also seen in Anil Kapoor's film 'Kishan Kanhaiya' as his daughter. Following this, in 1993, Shweta was cast as Radha in Ramanand Sagar's popular TV show 'Shri Krishna,' for which she received widespread acclaim. Shweta's identity in the industry differed from Radha's. Furthermore, although her appearance has changed so much in modern times that no one can recognise her, if anyone does, it will be as Radha from 'Shri Krishna.' Shweta is said to have failed her first audition for this show.
Can anyone guess the movie…☺?Spotted this piccha on 😍.. #screen #mother #rekhaji sharing the frame… pic.twitter.com/HKWuUNbWJy

— Shweta Rastogi Chaudhary (@ShwetaRastogii) June 15, 2020
Shweta explained how she got the role of Radha
Actually, Shweta auditioned for the role of baby Radha in Ramanand Sagar's serial 'Shri Krishna,' but Ramanand Sagar did not like Shweta's audition. Sagar Sahab was unimpressed with her dialogue delivery, but Ramanand was taken with Shweta's beauty and simplicity. Aside from that, many more girls auditioned, but in the end, Ramanand Sagar cast Shweta in the role of Radha. Ramanand Sagar is said to have asked Shweta to dance during the filming of a segment of the show. He did this because he wanted to see if Shweta could dance with Krishna in 'Maharas'.
मुझे राधा का किरदार कैसे मिला…..👇💝https://t.co/96wI0ziST2

— Shweta Rastogi Chaudhary (@ShwetaRastogii) June 11, 2020
Shweta has worked in many TV serials.
Not only that, but Shweta performed a dance in which only the star of her luck shone, because Shweta is a popular classical dancer. When Shweta and Swapnil were dressed as Radha-Krishna during filming, Ramanand Sagar is said to have come over and blessed them by touching their feet. People's memories of Shweta's portrayal of Radha are still fresh in their minds. Shweta has also appeared in serials such as 'Jai Hanuman,' 'Kesar,' 'Woh Rahne Wali Mahlon Ki,' 'Thodi Si Zameen Thoda Sa Aasam,' and 'Stree Teri Yehi Kahani.' Aside from that, she played Ahilya in the television series 'Siya Ke Ram.'
Click here for the latest news from Bollywood, Hollywood, South Film Industry, Bhojpuri and TV world… Click here to join the Facebook Page, Twitter Page, YouTube page, and Instagram of Bollywood Mascot!