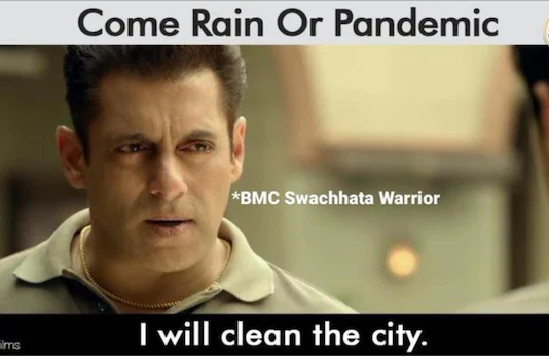 How BMC is Using Salman Khan's 'Radhe' Trailer to Salute 'Swachh Warriors' ?
As we see Social Media has become one of the best ways to reach out to the audience and so is the case of the Mumbai civic body as well called popularly known as BMC. They are not too far behind when it comes to using the same for spreading any message. Well, as the trailer of the film Rahde was dropped by Salman Khan, we now see the BMC also using the same in order to salute the Covid warriors the best. 
Well, one can find the tweet coming from the same, well, let's check the same and better understand how the BMC has used it to promote the same as under: 
BMC Swachhata Warriors – Mumbai's Superhit Heroes!#SwachhWarriors #CleanMumbai pic.twitter.com/JBazFczK4w

— माझी Mumbai, आपली BMC (@mybmc) April 24, 2021
The moment the BMC team tweeted the same, they were quick to get the response. How about checking the reactions for the same that has been coming as under:
Appreciation for all front line workers who are working hard whole day and night ❤🔥🙏

Stay safe Stay safe everyone !

Radhe Radhe

— Kanha (@IbeingVolt) April 24, 2021
Very poor choice of pic 👎 … any pic of real staff is better than this.

— CrimeMaster Gogo (@TeakuTalks) April 24, 2021
BMC च्या कामावर टीका करणाऱ्यानो, आपण देखील मुंबई मध्येच राहत असाल.

So…. आप भला तो जग भला..,दुसऱ्यावर एक बोट दाखवताना चार बोटं आपल्या कडे असतात.

स्वच्छतेची सुरवात आपल्या घरा पासून….कुटुंबा पासून…..सोसायटी पासून…….केलीत तर आणि तरच आपली मुंबई स्वच्छ दिसेल.

— Mahesh Patil, DVPSS (@MaheshLPatil4) April 24, 2021
Stay tuned to know more about it and others only with us.