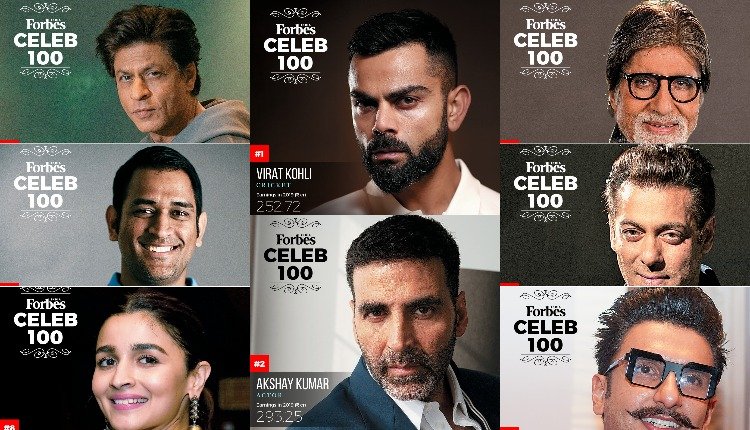 Forbes India
Check Out Forbes India's top 100 celebrities for 2019
Forbes Magazine released the list of India's top 100 celebrities for 2019. Current Indian cricket team captain Virat Kohli trump Salman Khan to reach top spot On Forbes 2019 Celebrity 100 List. This is the first time, a cricketer has knocked out a Bollywood celebrity to top the Forbes 2019 Celebrity 100 list for India. The second place was taken by Bollywood Khiladi aka Akshay Kumar who ranked 3rd in 2018. Salman Khan, who was ranked at the number one spot in 2018, pushed to the number three spot.
1.

Virat Kohli
The cricket star occupies top spot on the 2019 Forbes India Celebrity list, with a prolific run scoring spree and a glut of endorsements.
2.

Akshay Kumar
The actor beat global A-listers like Rihanna and Bradley Cooper in this year's Forbes US list of World's Highest-Paid Celebrities.
3.

Salman Khan
Salman Khan slipped from the top position on the list to number three. He had only one movie release—Bharat—this year.
4.

Amitabh Bachchan
Amitabh Bachchan has moved further up the ranks, making it to the top five with a successful season of Kaun Banega Crorepati.
5.

MS Dhoni
MS Dhoni is steady at No 5 because of his brand endorsements.
6.

Shah Rukh Khan
The superstar climbed to the sixth spot on the back of a strong endorsement pipeline.
7.

Ranveer Singh
Ranveer Singh jumps one place on the list to No 7, following the success of Gully Boy and multiple brand endorsements.
8.

Alia Bhatt
Alia Bhatt has moved up the list from 12 to 8, thanks to her massive social media popularity.
9.

Sachin Tendulkar
The former India captain retains his No 9 spot thanks to the returns on his investments and brand endorsements.
10.

Deepika Padukone
Deepika Padukone, who had no film releases this year, slipped from number 4 to number 10 this year.
You Can Check Complete List of Forbes Top 100 Indian Celebrities for 2019 Here's Link