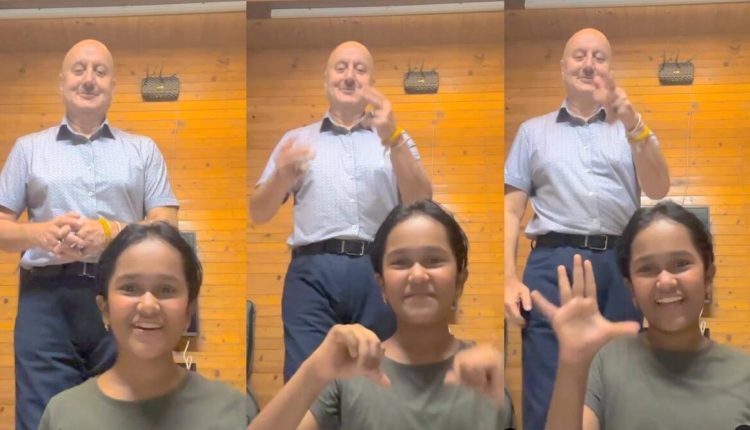 Anupam Kher Pledge to Launch Satish Kaushik's daughter Vanshika Kaushik in Films Receives Praise from Netizens
In a touching gesture, Anupam Kher shares heartwarming conversation with Vanshika Kaushik, promising to launch her in films.
Renowned actor Anupam Kher, known for his active presence on social media, delighted his followers on Tuesday night by sharing an emotionally charged video. The clip showcased a poignant encounter between Kher and Vanshika, the daughter of his late friend and fellow actor Satish Kaushik. Since the untimely passing of Kaushik earlier this year, Kher has been providing support and companionship to Vanshika. In the heartwarming video, Vanshika pays a visit to Kher's office, resulting in a heartfelt conversation captured on camera. The endearing interaction between the two touched the hearts of netizens, who expressed their admiration for the touching exchange.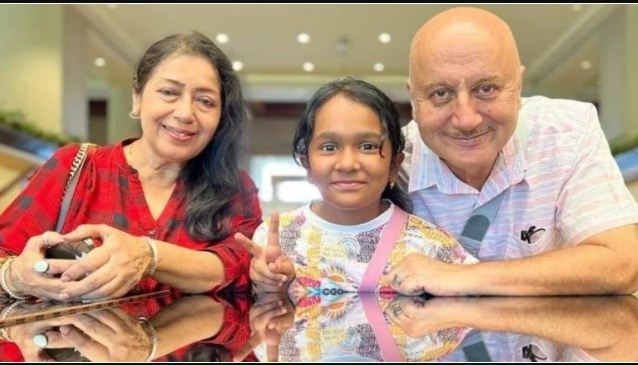 Vanshika Kaushik bonds with Anupam Kher
In the heartfelt video, Anupam Kher engages in a warm conversation with Vanshika, discussing her daily life, interests, favorite songs, aspirations, and cherished memories of her father. Anupam affectionately refers to her as a 'princess' at the beginning of the video. Vanshika shares how she spends time with her mother at home and expresses her love for Taylor Swift's music, even singing one of her songs. Anupam gently asks her about her future aspirations in acting, to which Vanshika responds with uncertainty.
Read Also: Kartik Aaryan And Kiara Advani Unleash Stardom At 'Satyaprem Ki Katha' Grand Event!
Anupam Kher made a heartfelt offer to Vanshika, expressing his willingness to personally train and launch her as an actor if she ever chooses to pursue that path. Vanshika responded with laughter, and Kher emphasized the importance of focusing on her studies for now. While discussing her father, Vanshika became emotional but managed to conceal her feelings. She fondly remembered Satish telling her bedtime stories. Vanshika also mentioned her upcoming 11th birthday on July 15th and expressed her desire for Anupam to attend the celebration. In response, Kher promised to host a party for her.
Anupam Kher's Heartfelt Video with Vanshika Kaushik Wins Hearts on Twitter
Last week my dearest darling #VanshikaKaushik came to meet me at my office at @actorprepares. We talked about millions of things. Like school, studies, being an actor, make up, hairstyles, @taylorswift and of course her papa and my dearest friend #Satish. We could have spoken for… pic.twitter.com/rUNp6OKft9

— Anupam Kher (@AnupamPKher) June 20, 2023
Anupam Kher took to Twitter to share the heartfelt video, accompanied by a touching message. His tweet expressed his joy in meeting Vanshika at his office, where they engaged in conversations ranging from school, studies, and acting to makeup, hairstyles, and their shared love for Taylor Swift. Anupam fondly mentioned their discussion about Vanshika's father, Satish Kaushik, and expressed his admiration for the bright and beautiful child. He expressed his deep affection for her and acknowledged the valuable lessons he learns from her, ending his post with love and prayers.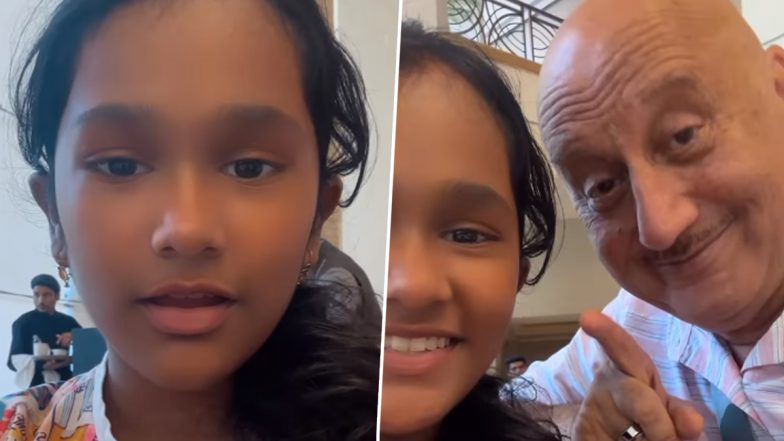 The video shared by Anupam Kher garnered an outpouring of admiration from netizens. One user expressed appreciation for Kher's kind gesture, highlighting the fortunate friendship between Anupam and the late Satish Kaushik. The user also expressed confidence in Vanshika's talent and anticipated her making her father proud after receiving training from Anupam's film school. Another user empathetically acknowledged Vanshika's emotional response to her father's memory, encouraging her to stay strong and reminding her that her father is watching over her from above, guiding her and showering her with love. The comment section was filled with love and support for the young Vanshika.