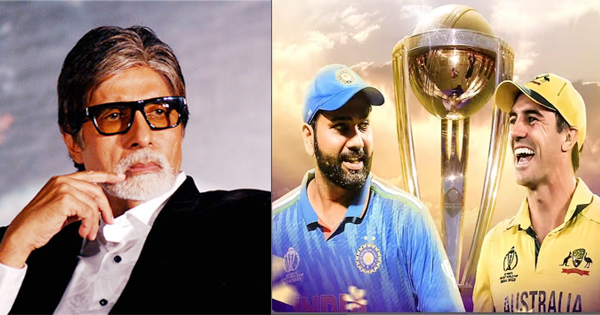 Amitabh Bachchan Dilemma: To Watch or Not to Watch ICC World Cup 2023 Final
Bollywood's stalwart, Amitabh Bachchan, faces a puzzling dilemma as the ICC World Cup 2023 final draws near, pitting India against Australia at Ahmedabad's Narendra Modi Stadium. The iconic actor's recent tweet has sparked a frenzy among cricket enthusiasts, questioning whether he should witness the colossal showdown on November 19.
Amitabh Bachchan Tweet Creates a Stir
A recent tweet by the legendary actor hints at his dilemma about attending the final match. Bachchan, seeking advice, penned a tweet asking his followers in the 4832nd tweet, "Now contemplating… should I go or not?"
User Appeals and Reactions
Cricket enthusiasts flooded Amitabh Bachchan's tweet with appeals, suggesting that if he considers himself a "panauti" (bad luck charm), he should abstain from watching the match this time too. Several users advised him not to attend the game or even refrain from watching it on TV, expressing humorous concern for the team's luck.
Reasoning Behind User Comments
Bachchan previously congratulated Team India after their victory in the semifinals, jokingly attributing the win to his absence from watching the game. This jest has prompted his fans to humorously dissuade him from watching the final match, leading to the viral trend of their appeals on social media.
Rajinikanth's Prediction Adds Flavor
Following the semifinals, Rajinikanth predicted India's triumph in the World Cup, asserting his unwavering belief in India's victory. The actor's confidence added another layer of excitement to the upcoming finale.
With Amitabh Bachchan's tweet sparking a frenzy of advice and jest among cricket enthusiasts, the anticipation for the ICC World Cup 2023 final between India and Australia reaches unprecedented heights. The decision of whether the iconic actor will heed the advice of his fans remains a topic of intrigue as cricket aficionados eagerly await the epic clash.
Click here for the latest news from Bollywood, Hollywood, South Film Industry, Bhojpuri and TV world… Click here to join the Facebook Page, Twitter Page, YouTube page and Instagram of Bollywood Mascot !