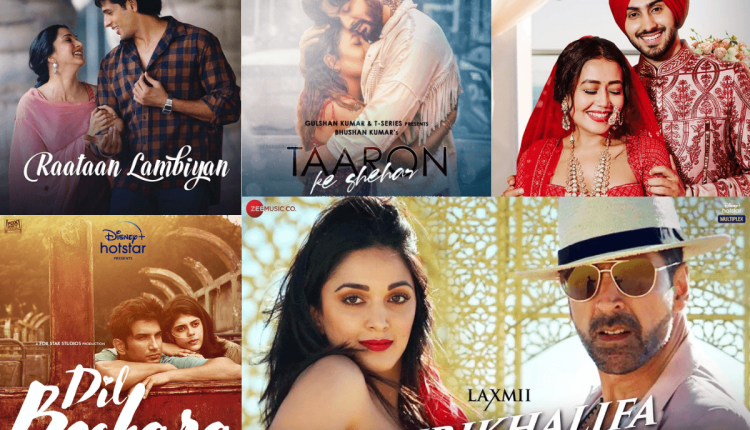 Hindi Romantic Bollywood Songs 2020 and 2021
In the year 2020, there were very few songs released in comparison to other years due to pandemics, there are the best Bollywood songs from 2020 we have picked for you. These songs are on most people's playlists.
2020 is a relaxing year due to covid 19 spared over the world. Due to music, we are able to meditate or be relaxed and passed time with ease. Here are our best Bollywood songs 2020 & 2021 picks. Hear and enjoy.
Best Bollywood Songs 2020
#1 DIL BECHARA
Dil Bechara was the last movie of the late Sushant Singh Rajput and there are so many hit songs in this super hit movie. The title track of the movie is loved by people, the song and the video in which Sushant was dancing was loved by fans. The key part of this movie Dil Bechara is that it is the most searched movie on Google and most tweeted in 2020.
Also View: Sushant Singh Rajput and Ankita Lokhande
#2 BURJ KHALIFA
Akshay Kumar's track from the film Laxmi was a huge hit right away. The Bollywood Song was touted as the biggest dance song of the year, Burj Khalifa is a Punjabi music track with a beat. It was composed and sung by Shashi and Dj Khushi. The lyrics were composed by Gagan Ahuja. To make the song a hit for young people the lyricist has made numerous pop-culture references. This includes Kylie Jenner's name. Akshay Kumar looked at his wild beast in the video and Kiara Advani was a hot smoldering hot.
#3 NAACH MERI RANI
When you're surrounded by Nora Fatehi, you can expect nothing but extreme heat and madness. In the music video for Naach Meri Rani, Nora Fatehi is an alien robot that is from the past. This catchy Bollywood Song, sung by Guru Randhawa, Nikhita Gandhi, and Tanishk Bagchi, is suitable for igniting the dance floor. It has racked up more than 350 million views on YouTube. The anticipation was high prior to the song's release, and it exceeded all expectations and became an instant success.
#4 NEHU DA VYAH
The day before their wedding, the 26th of October, Neha Kakkar, and Rohanpreet Singh have released their long-awaited track Nehu Da Vyah. The song was composed and written by Neha as well as Rohanpreet is also in the music video with Neha. The track is a delight for people who love the singers. The video has been made in a charming manner and features Neha thinking about Rohanpreet. As with numerous Punjabi tracks, Nehu Da Vyah has gorgeous lyrics and soothing music.
#5 Aabaad Barbaad
Bollywood Hindi Songs Aabaad Barbaad was a track from Ludo and included the whole actors in the film. It portrayed the intricate nature of their respective stories and how the main actors tried to get over the obstacles. It was performed by Arijit Singh, the song received very positive reviews from the fans who loved the smokiness. If you're going through difficult days, it will bring you joy.
#6 MERE LIYE TUM KAAFI HO
The song was sung by Ayushmann Khurrana, Mere Liye Tum Kiafi Ho from the movie Shubh Mangal Zyada Sagavdhan was loved by all fans for the romantic songs it has. It's one of the best songs to gift to that special person in case you're not seeing them. This song has racked up an impressive 45 million viewers on YouTube.
#7 MIRCHI
Mirchi was a pop-punk song from rapper Divine and included Stylo G and M.C. Altaf and Phenom. It was one of the most popular tracks of the year 2020. The song addresses the old question of how far someone goes to be loved?
#8 AISE KYUN
If you're having issues with your partner and thousands of questions are bouncing around your head This song can soothe you. It provides the answer to every 'what-if as well as 'how' and 'why' that may be a source of conflict between couples during the beginning stages of romance. It is sung by Anurag Sikia, Nikhita Gandhi, and Raghav Chaitanya. It is part of The Netflix web series Mismatched.
#9 TAARON KE SHEHAR
Sunny Kaushal's first music video alongside Neha Kakkar was adored by fans for its songs, vocals, lyrics video, lyrics, in fact, everything. The song was a big hit and was instantly added to the playlist of everyone. The track is set in New York City but has been made in Delhi during a three-day period. The music video stars Neha along with Sunny as robbers, who have an enthralling bond. They even sport an elegant look. The track is performed by Neha Kakkar and Jubin Nautiyal.
#10 DUNIYA SHARMA JAAYEGI
We had to include the song by Khaali Peeli on the list. It was among the top songs of the year due to the controversy surrounding it. For those not familiar, Duniya Sharma Jaayegi was previously referred to as Beyonce Sharma Jayegi. The song was criticized regarding its lyrics: Tujhe Dekha Ke Goriye, Beyonce Sharma Jayegi. The song was later replaced by the line: Tera Dekh Ke Nakhra Duniya Sharma Jayegi.
The Vishal-Shekhar composed track was criticized widely for having racist undertones, with netizens accusing it of glorifying white skin. The comparison with African-American pop star Beyonce also felt bizarre. The song initially received a lot of dislikes.
New Best Songs 2021 Bollywood
Even the tidal wave in 2020 did not be a hindrance to the rumbling of 2021. As we battle an unstoppable pandemic, music can be both an escape and a source of relaxation. While the situation isn't spectacular on this front, there was an effort by musicians to make their music distinctive and thrilling. It's subjective but the following songs are Best Songs of 2021 from Bollywood.
For Bollywood songs download we are not providing any link but you can view the video song from YouTube we have added all Bollywood song links.
2021 Top 10 Bollywood Songs
#1 Rait Zara Si
It's an entirely separate world that is unaffected by critics and takes the viewer to a faraway, distant place in a tale that is his own creation, which filmmakers can only attempt to catch up.
Although it only came out towards the end of this calendar year Atrangi Re's track has swept me off my feet and makes me feel like it's been playing for a long time. Every song is stunning in its own way however the song Rait Zara Si's exquisite humming, ethereal metaphors, and a plethora of A. R. Rahman give you a bunch of goosebumps.
#2 Raataan Lambiyan
Another great Bollywood Song from the 'Shershah' movie "Raataan Lambiyan" is a lovely romantic song that focuses on the hurt of not being loved ones, and how the pain becomes more intense, especially at the night. It is sung with great talent with Asees Kaur as well as Jubin Nautiyal, the song was one of the most streamed tracks across all platforms, this year. Intoxicatingly warm and melody, the enthralling romantic fervor and jolly beat in Tanishk Bagchi's sweet Punjabi spiced song is hands down the Hindi track I heard the most of them throughout the year.
Also Watch: Sharam Lihaaj HD Video Song By Sunny Leone
#3 Tittar Bittar
Raj Shekhar's funny lines as well as Justin Prabhakaran's lively tune, and an array of animated singers alter their moods and tempos in such a beautiful manner on both the screen and the speaker that you'll be able to avoid the swaying effect.
#4 Bandar Baant
Hussain Haidry's inventive reworking of the old Bandar Baant theory is a perfect match for the band's jolly energy. It also interrupts Sherni's contemplative pacing, to mock the absurdity of politics and opportunity.
#5 Rihayee De
Rahman's Enya-Esque impulses are calmingly expressed in the raw emotions that are the trademark of Rihayee de. An excellent track, in any case, was raised to a new level due to the fact that Rahman sings it.
#6 Lehra Do
Lehra does music by Pritam, Lyrics Kausar Munir, and Sings by the best singer of Bollywood Arijit Singh from movie 83.
#7 Ananya
One more Arijit Singh's from Toofaan movie, Bollywood Song Ananya, music by Shankar-Ehsaan-Loy and lyrics by Javed Akhtar.
#8 Phire Fakira
Another Song in which music by Arijit Singh and sung by Raja Kumari, Amrita Singh, Arijit Singh, and lyrics by Neelesh Mishra song Phore Fakira from movie Pagglait.
#9 Tu Toh Gaya Re
Quite impressive from singer Binaca Gomes Bollywood Song Tut oh Gaya Re from movie Bob Biswas. Music by Vishal-Shekhar and Lyrics by Vishal Dadlani.
#10 Mehram
Latest Bollywood Songs Sachet Tandon's Mehram from movie Jersey starrer Shahid Kapoor & Mrunal Thakur, music by Sachet-Parampara, Lyrics shellee and Sing by Sachet Tandon.
Hit Hindi Romantic Bollywood Songs
#1 Ranjha
A gorgeous, powerful love bad that focuses on the bittersweet feelings that occur when lovers kiss and say good-bye. It is sung with power performed by B Praak and Jasleen Roya, l"Ranjha," a song that was based on Sidharth and Kiara Advani, was also included in the Global Exclusive Billboard US charts!
#2 Param Sundari
The Bollywood Song, which was based on Kriti Sananon's face to promote "Mimi" in the Netflix Mimi film was one of the most popular songs to be released this year. The song was composed by the Oscar-winning music composer AR Rahman and sung by Shreya Ghoshal, the song 'Param Sundari was the most popular song on the air this year.
#3 Jugnu
Badshah has reinvented himself this year with a number of pop songs released in the year. Paani Paani also was a major hit, but the biggest success will be the disco-pop banger from Badshah which features Nikita Gandhi. The song did not only dominate the streaming platforms but also was an instant hit on Insta reels too.
Also Watch: Meri Tarah Song By Jubin Nautiyal & Payal Dev