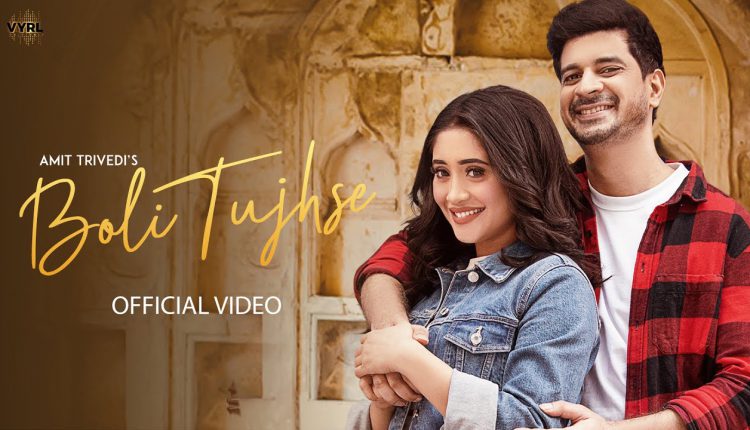 Boli Tujhse HD Video Song by Amit Trivedi, Asees Kaur & Abhijeet Srivastava



The time is now to be a romantic again. Asees Kaur, as well as Abhijeet Srivastava, have magnificently brought to life Amit Trivedi's composition as well as Raj Shekhar's lyrics using their beautiful voices.
Boli Tujhse is produced by the super talented ADP and is a touching love story set in a typical Indian area. The way they describe it is in Hindi "Ishq aur Mushk Chupaye Nai Chupte'. The story has two lovers, played by Tahir Raj Bhasin and Shivangi Joshi. They are doing it to keep their sweet romance from being the talking point in the city. The neighbours' naughty ways add sweetness to the drama to make it cuter. We would love to hear your favourite sequence from the film by leaving a comment below!
Boli Tujhse Song Lyrics
Laagi Re Laagi Re Laagi Laagi Re Nazariya…
Boli Tujhse Main To Kitti Kitti Baar
Kuch Din Chhupke Abhi Milte Hain Na Yaar
Boli Tujhse Main To Kitti Kitti Baar
Log Baag Poochte Hain Khamakha Sawaal
Chhedte Hain Tere Naam Se
Also Check: Jannat Zubair Rahmani Latest Hot Viral Photos



Naam Tera Jo Mujhse Jud Gaya
Lo Shehar Bhar Ko Qissa Mil Gaya
Unke Taanon Ka Kariyo Na Khayaal
Ishq Hi Kya Jo Ho Na Kuch Bawaal
Ek Baat Agar Main Poochoon
To Sach Mein Batlaana Kyun
Chhod Sab Tune Mujhko Chun Liya
Naa Maine Chuna Hai Tujhko
Naa Tune Chuna Hai Mujhko
Ittefaaqon Ne Qissa Bun Diya
Tera Shukriya…
Ho… Tera Shukriya.
Boli Tujhse Main To Kitti Kitti Baar
Kuch Din Chhupke Abhi Milte Hain Na Yaar
Boli Tujhse Main To Kitti Kitti Baar
Log Baag Poochte Hain Khamakha Sawaal
Chhedte Hain Tere Naam Se



Also Check: Bollywood Park Dubai Timings
Naam Tera Jo Mujhse Jud Gaya
Lo Shehar Bhar Ko Kissa Mil Gaya
Unke Taanon Ka Kariyo Na Khayaal
Ishq Hi Kya Jo Ho Na Kuch Bawaal
Boli Tujhse Song Audio Credits
Music Composer – Amit Trivedi
Singer – Asees Kaur, Abhijeet Shrivastava
Lyrics – Raj Shekhar
Music Produced – Amit Trivedi
Sound Engineer AT Studios – Urmila Sutar
Also View: How much cost per month is Peacock Premium? & Evergreen Bollywood Hindi Movies