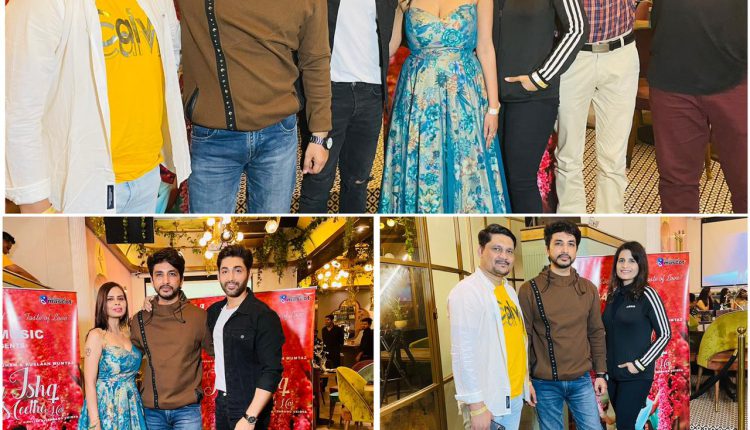 Magic of Vardan Singh voice took whole the team on dance floor at the launching party of Tera Ishq Bahut Meetha
Bollywood is incomplete without music, so the craze of music videos is also increasing day by day. Tera Ishq Bahut Meetha by Vardan Singh was launched at Ammata Restaurent in Mumbai Andheri on Tuesday evening, 28 March. Bollywood actor Ruslaan Mumtaz is featured in the song along with beautiful actress Shalini Chouhan. As soon as this song started in the melodious voice of Bollywood's well-known singer Vardan Singh and Tripty Sinha, this music video won everyone's heart.
Tera Ishq Bahut Meetha-Full Video | Vardan Singh| Tripty Sinha| Shalini Chouhan | Ruslaan Mumtaz
Along with the powerful picturization of Tera Ishq Bahut Meetha, the music of the song also very sweet listening for ears. Soon after its release, the song attracted huge audiences, commenting and praising the voice of Vardan Singh, performances of Shalini Chouhan and Ruslaan Mumtaz. During an interview with the media, Shalini Chouhan told that she has got a lot of love from the audience in all her projects as director and whatever she has done before. She now hopes that as an actress, she should praised like the same way.
The music composer and singer of the song Vardan Singh told in a conversation with the media that "Azeem Shirazi has written a number of songs, but the lyrics of Tera Ishq Bahut Meetha touches the heart directly, the sweetness of the song is really magical". Vardan Singh has lent his voice to the songs of films like Amitabh Bachchan Starring Film Rann, Rakta Charitra, War Chhod Na Yaar, Ishq Junoon as a playback singer.
Let us tell you that the director of this song is Tarang Vaidya, the producer is Om Prakash Singh Chauhan while the choreographer of the music video is Ishak Khan and the cinematographer is Shivam Singh. Akash Chaudhry commanded the music video as the project head.